The Mount Mash Potato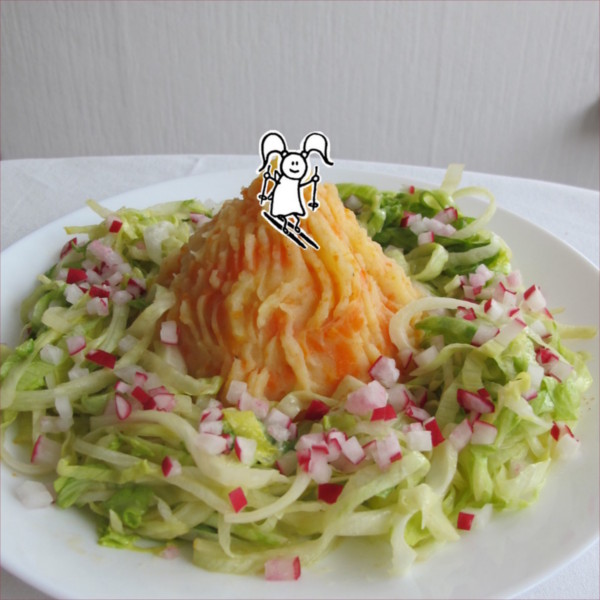 This week was a great summer week in Berlin. So Bea and I were a lot in different parks. While Bea drew new colouring recipes, I discovered the parks and the people.
Most of them ate ice cream, lay in the grass, played soccer or talked a lot about boring things - but two men talked about a Mountain called Mount Everest. That was new! I decided to stay by them. What they said was really interesting and they had a big box full of fruit (cut apples, melons, pears, peaches,...) ...mmmhhhh... delicious... :)
I tasted a few fruit (hihihihhi... it was more than just a few... hihiihiiihii...) while I listened to the story of the two men. It was delicious for my mouth and my ears :) They said Mount Everest is the highest mountain in the human world and that it is dangerous to climb this mountain... wooowww...
When the two men have closed the box of fruit, I flew back to Bea and told her all the details I heard. She was also fascinated. Back at home we discovered the internet about Mount Everest. It is so beautiful. The human world is really beautiful and fascinating :)
After a half a hour of discovering, Bea´s stomach growled really loudly - she was hungry. She hadn´t the chance to secretly eat a lot of fruit like I did... hihihiihi... I wanted to see more pictures of the mountain, so this time I didn´t help her in the kitchen.
When Bea came back she presented me with a big surprise - a Mount Mash Potato with a forest around it :) Hooray! She prepared the mountain with potatoes, carrots and almond milk and the forest with lettuce, reddish and a mustard dressing... nom nom nom :)
It was amazing. At first I climbed the mountain - three times, but then I remembered the pictures of skiers - so I skied the Mount Mash Potato... hihihihi... that was great :)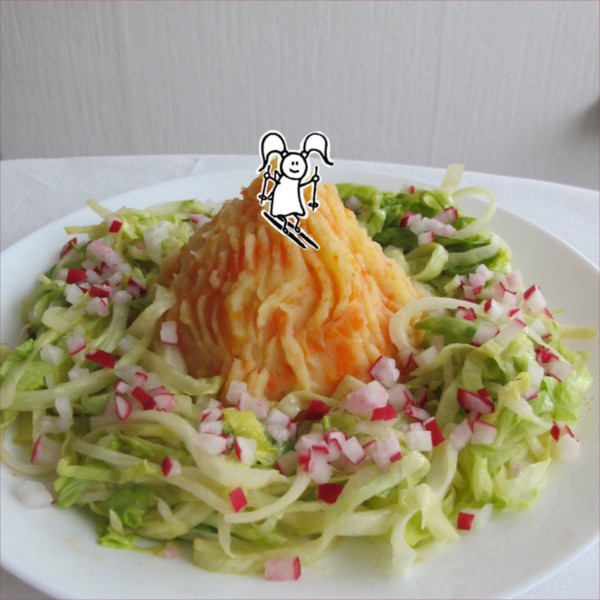 Don´t I look fantastic skiing this Mount Mash Potato? I love it :)
The day after, Bea surprised me again. Because I was so happy about the Mini Comic last week she created a new one - which this time is a recipe for creating a Mount Mash Potato.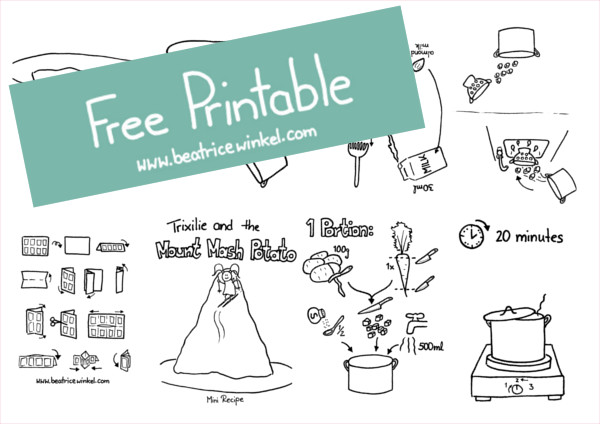 You can download it for free here:
Print it, fold it and colour it :) I hope you enjoy it as I do :)
See you next week!
Hugs and Kisses
Trixilie