Trixilie and King Kong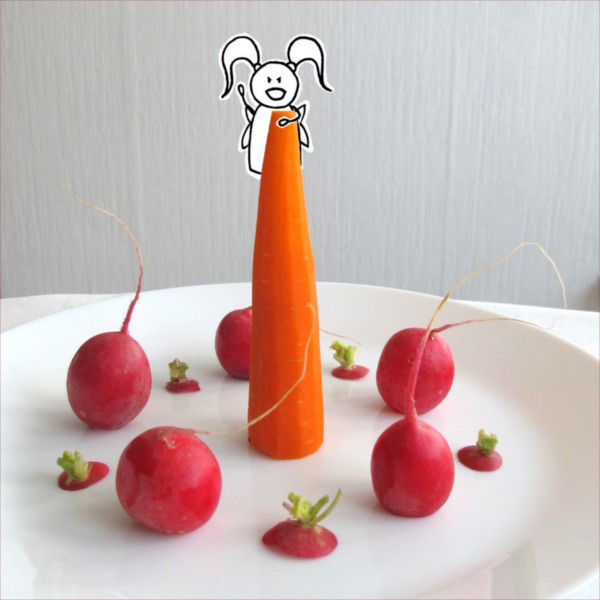 A huge monkey is the King of all Kongs?
I often write that Bea and I have walks, but this is not the only thing we do. We also visit museums, markets (food markets and flea markets), theatres, .... and sometimes I hide myself in Bea´s pocket, when she meets her friends - then I am an undercover fairy guest... hihihihihihihiii...
This week she met some friends. They cooked, ate, watched some films and talked ... a lot... even when they cooked, ate and watched films. The chat was not so interesting for me, so I paid attention to the films. One of them was a totally old film about a huge monkey called King Kong. But there was no real huge monkey in the film - it was a monkey doll which was blend in the film. It looked so funny and I had to laugh and giggle all the time... hihihihi...
I liked the idea of being huge. I am a tiny fairy and most people overlook me, even when I´m sitting on their nose. Perhaps this happens because the most people don´t believe in fairies - poor them :) . But if I would be as huge as King Kong the most people would see me... maybe... and would start to believe in fairies.
When Bea and I walked back home, I told her that I want to be as huge as King Kong and why. She smiled at me, gave me a kiss on my head and said that she loves me like I am and that my size is a special feature - if I would be as big as King Kong I couldn´t have flying races with butterflies, couldn´t eat fruit undercover like I did a few days ago or couldn´t discover the human world hidden from view. She also said that a lot of people don´t believe in small things and want to fight big things - like in King Kong. That is quite interesting...
On the next day, I already had forgotten King Kong and was really busy discovering the balcony flowers of Bea´s neighbour - until lunch. Bea prepared a carrot apple radish salad and surprised me with a carrot-hattan (Manhattan built with carrots and radish). She asked me if I want to be Mini King Kong and I said YEEEEEEES! hihihiiii...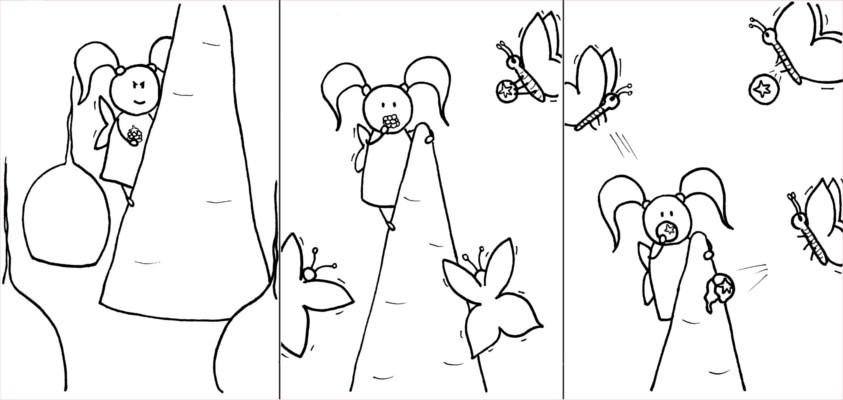 So I took a helpless raspberry, climbed up the carrot tower, ate the raspberry and survived the blueberry bombs from the carrot-hattan´s butterflies.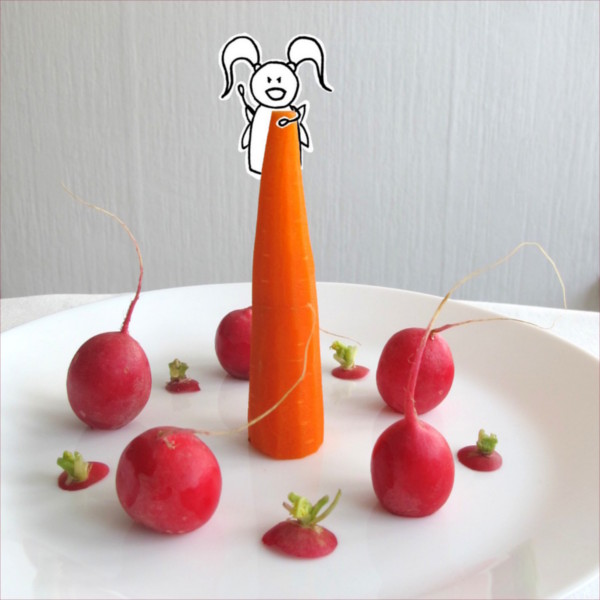 After I had eaten the raspberry, all blueberry bombs and half of the carrot, Bea asked if I want to have a Mini King Kong Comic and I said YEEEEEEEES again... hihihiihihi. Bea drew a new Mini Comic ( I think she likes them as much as I do :) ) under my instruction. That was great :)
Me as King Kong in a perfect size - in my size :)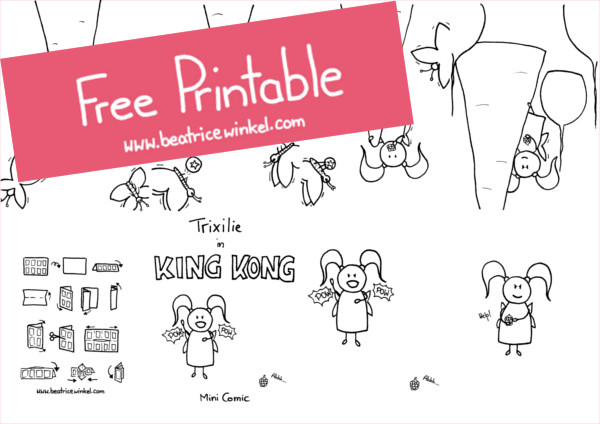 You can download it for free here:
Print it, fold it and colour it :) I hope you enjoy it as I do :)
See you next week!
Hugs and Kisses
Trixilie