Food Game - Eat Colours – parent version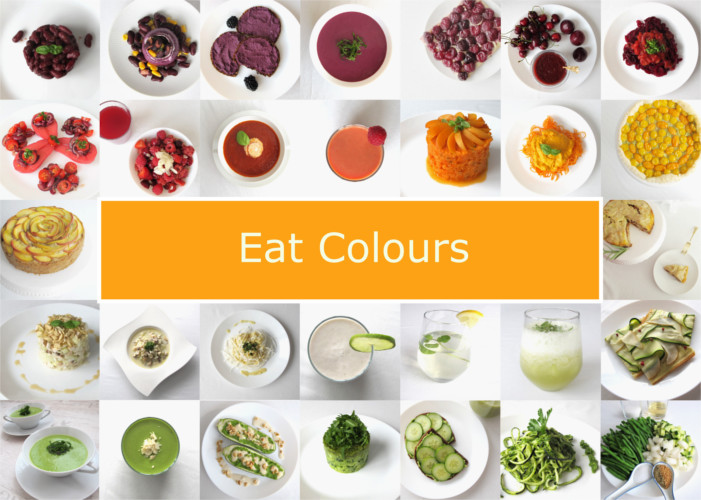 Eat colours is a really simple game. Your child chooses one colour: "Today, we will eat just green/white/yellow..." and for the whole day they look for fruit and vegetables in this colour. It is an easy way to eat fruit and vegetables. For example, your child chooses green, so you and your child eat as many green things as possible: apples, cucumbers, beans, broccoli, pears, grapes, kiwis, avocados, peas, melons, peppers and so on. But green jelly is also okay, because your little darling won´t transform into a fruit-and-vegetable-junkie overnight ;)
Apropos overnight: Be prepared that your child´s eating habits will just change slowly. So you can start to play the eat-colours-game really slowly and quite incidentally. Here are some ideas (of course you can suit them to your needs):
Step 1: in the first week, you could download and print the free I-eat-colours-colouring-pictures. Give them and a few pens your child to colour. On these colouring-pictures Trixilie presents fruit and vegetables of the corresponding colour. Naturally your child is allowed to add other fruit and vegetables on the colouring-pictures. So your child gets in touch playfully with this eat-colours-game and perhaps it comes up itself with the idea to eat colours.
These are the colouring-pictures:

and here you can download them for free:
(By the way: Trixilie and I would be very pleased, if you and your little darling mail us some photos of your artworks :) beatrice @ beatricewinkel.com)
Step 2: Hang the coloured pictures on your fridge door. For the next two days you and your child should only admire the coloured pictures ;)
Step 3: You notice (of couse purely coincidentally…) that the banana / apple / pear / or another fruit or vegetable, which you want to eat, is part of a coloured picture (hanging on the fridge door) and so you´re eating the colour in the picture.
Step 4: Directly after step 3 ask your child if she/he wants to eat the colour in the picture with you on this day. It is important when your child says no that you will accept it and play this game on your own. Because if you won´t accept your child´s no, the game would turn into a "you-have-to" action for your child and that isn´t fun anymore. But playing games should be fun ;) Generally, kids want to join in later the same day ;) Besides you can find a lot of free and colourful recipes here (all recipes are sorted in colours: green, white, yellow/orange, red and violet).
Step 5: After you and your child have eaten a colour for the whole day, in the evening ask your little darling which colour she/he wants to eat the next day. Thereby you and your child could already imagine all the delicacies you want to eat. One of the coloured pictures or the free colourful recipes could help you.
Step 6: To show your child more edible colours (fruit and vegetables) take she/he to the supermarket, market or any other place where you buy your fruit and vegetables. So your little darling gets in touch with a lot of different fruit and vegetables, gets new ideas for the coloured pictures and can collect together her/his colours for the next days.
That´s the theory, but we all know the practice could be different. That´s why I collected a few situation which could happen and how to handle them. If you have other situations and you need a bit of help, write a comment below and we will find a way :)
What-if solution proposals:
+ What should I do, when my child wants to eat blue? One of the colouring-pictures is an I-eat-blue-picture. In this picture, Trixilie thinks about blue foods in the human-world. She realizes that only a few fruit and vegetables are blue. So be honest with your child. Take this "I-eat-blue" picture and think about what are the best blue alternatives for your child. I know one child which drew cucumbers on the I-eat-blue-picture. Another child from a kindergarten insisted on banning plums from the I-eat-violet-picture, because in her grandmother´s garden the plums on the trees always look blue - not violet. You see, kids are really creative and have their own colour ideas - like all of us ;)
+ What should I do, if my child wants to eat a colour which isn´t part of the free I-eat-colours-colouring-pictures? Your child could draw one :) Whether it is a pink one (cherries, strawberries,...), a brown one (potatoes, nuts,...) or a bicolour one (yellow and green, red and violet,...) feel free to create your own I-eat-colours-picture.
+ What should I do, if my child can´t decide which colour to eat? Make a rainbow day! On rainbow days you can eat all colours. For example Trixilie and I eat a rainbow with each meal. That means each meal includes at least one ingredient from each colour. For example a vegetable-pan with white onion, yellow pepper, orange carrots, red beetroot, violet aubergine and a lot of green parsley, basil and thyme. You could also do it like this:  a white breakfast, a yellow snack, a green lunch, a red snack and a violet supper. You can find free and colourful recipes here all recipes are sorted for colours: green, white, yellow/orange, red and violet. (By the way: there is another food game called "I-eat-rainbows")
+ What should I do, if my child can´t decide which colour to eat and I don´t want to have a rainbow day? Write the colours on some paper pieces, put all in a pot, lid and shake the pot - CAUTION: Hold on to the lid ;) Your child draws out the winning colour.
+ What should I do, when my child insists e.g. watermelons are green although only the red is edible? Then the watermelon belongs on the I-eat-green-picture ;) You and your child define the rules of this game. On green days, Trixilie and I also eat watermelon - after all watermelon has a green peel - or the green leaves of red radish as a soup / salad. There are even yellow watermelons and white strawberries. The most important thing is that your child eats fruit and vegetables because it is fun :)
+ What should I do, when my child doesn't want to play this game? If you play this I-eat-colours-game on your own for a few days and your child has no desire to join in, then... take a deep breath... and first of all do nothing. Perhaps your little darling just doesn´t like this game. That´s totally okay. Not everybody likes Monopoly, so why should everybody like this game? If you like this game, you could play it just for yourself (yes, mummies and daddies are allowed to have fun ;) ) and/or you play with your child another food-game (you find all games here).
Trixilie and I hope you and your little darling have fun with this game. Let us know how you play it. Write a comment below or mail us some photos of your artwork :) beatrice @ beatricewinkel.com
Hugs and Kisses
Trixilie & Bea