Food game - flavour researcher - parent version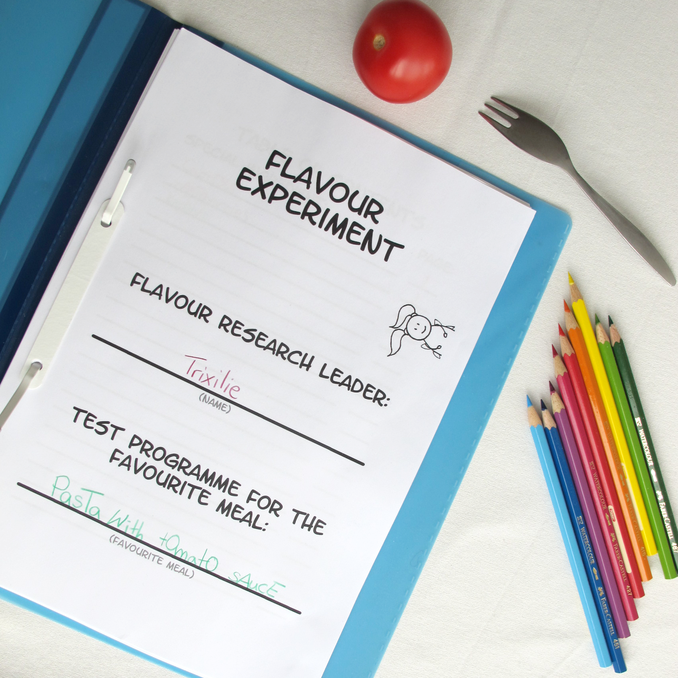 This game is especially for kids, who have only one favourite meal which they always want to eat.
So, if your child only wants to eat pasta with tomato sauce, chips, pizza or muffins and refuses (almost) any other food, here is a playful way to expand your child´s diet - WITHOUT a lot of tears ;)
This food game is flavour training for your child. Your little darling´s taste range is expanded because of little portions of fruit and vegetables hidden in your child´s favourite meal. As in the "Eat Colours" game, it needs a few weeks until your child´s taste range has changed.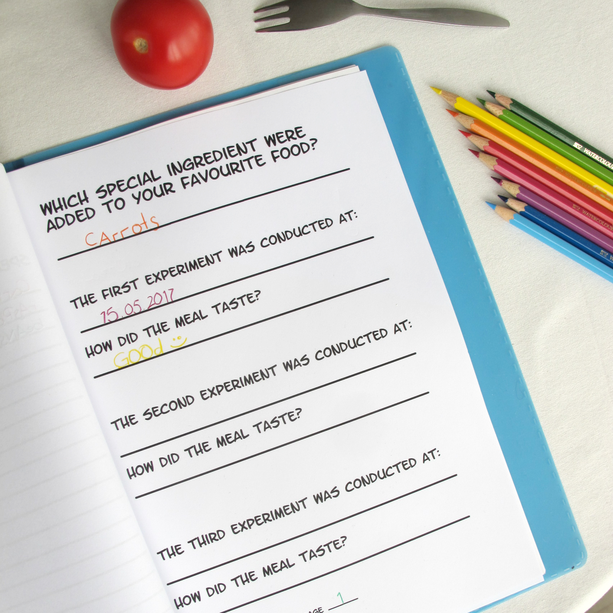 But now to the "rules of the game" (of course you can adjust them to your needs):
Step 1 (preparation phase): For the next 2 or 3 days, allow your child to eat her/his favourite meal. (Please, don´t be puzzled, it isn´t a typo. You´ll see immediately why that makes sense). In many cases, parents are worried about their children and "want" that they voluntarily eat fruit and vegetables whilst children are afraid that they have to eat this unloved food again. Because of these wants and habits the communal meal gets a bit stressed. That´s why this first step is so important. Through this step the tense eating situation get interrupted, all participants can relax and your child gets the chance to get bored with her/his favourite meal. So it doesn´t matter if your child loves pizza, chips or pasta - for the next 2 or 3 days your child will get her/his favourite meal.
Step 2 (the game starts): Now you start to play the experiment game with your child. You and your little darling are flavour researchers! Like any other researcher, you will carry out different tests and write all the results in an experiment book. The research subject is (of course) your child´s favourite meal. Your little darling is the research leader and you are the assistant ;) In this game you figure out if there is a better version of your child´s favourite meal and which ingredients you need for this best version. That means, you and your child have to test her/his favourite meal with a lot of new ingredients and the new ingredients are (of course) fruit and vegetables ;)
For example: Your darling loves to eat pasta with tomato sauce. You periodically test (every evening, every second evening, as you like) a new version of the tomato sauce. The first research could be: you and your child cook the tomato sauce as usual, add chopped carrots, cook until the carrots are soft and finely puree the sauce. You put the meal on plates, eat together and during the lunch/supper you talk about the sauce. Then your child (or you as the assistant) writes down the special ingredient (in this case the carrots), the experiment date (the evening/day, when you cooked it) and the taste (good/bad/okay) in the experiment book. (Trixilie and I have already created a free experiment book for this flavour researcher game. You can get it here: XXX).
Little by little you test different variations of the sauce and write the results of the flavour (change) in the experiment book. Because of this researcher perspective your child may enjoy to eat and to try new food/flavours and to write her/his experiences in her/his book.
Step 3 (repeat the tests): As in any other experiment you should repeat the tests two or three times, so you will get a reliable basis for your child´s flavour results. Because it could be that the research leader (your child) had a bad day and that´s why a meal variation didn´t taste nice or your child´s taste buds has changed after a few weeks ;)
Step 4 (evaluation of the experiment): After you have done this experiment for a few weeks, you and your child evaluate the results of it. Have a look in the experiment book: which special ingredient was tasty? Mark all the tasty ingredients with your child´s favourite colour in the table of contents. So, now you have a list of fruit and vegetables which your child likes  - but just didn´t know it :)
Step 5 (discover new favourite meals): Choose one marked fruit or vegetable from the table of contents and start a new test programme around this veggie (you are more than welcome to create a new experiment book or a new chapter of the "old" experiment book). Look for new recipes, which have this fruit/vegetable as an ingredient. For example, your child likes carrots now, so you could prepare carrot nut muffins, carrot soup, carrot salad, carrot halva, carrot smoothie, carrot potato mash, carrot pasta, carrot pizza, etc. Your darling writes in her/his experiment book if it tastes good or not. You could repeat this step with all "newly discovered" fruit and vegetables.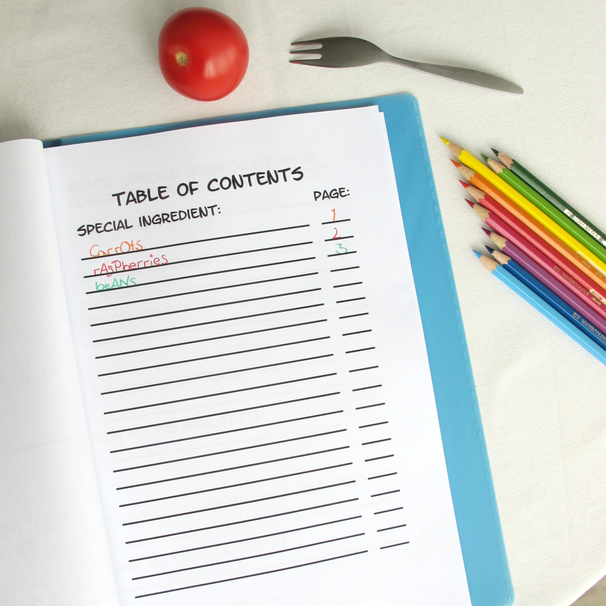 That´s the theory, but we all know the practice could be different. So here are a few questions, which could pop up when you play this game. If you have other questions, write a comment below and we will find a way :)
A few questions to this game:
+ How can I create a experiment book? You can download the free experiment book here:

Print, punch and file it in a folder. So the research leader (your child) is able to add new pages or a new chapter for another favourite food. Or you use empty pages and create your own experiment book.
+ If my child only eats her/his favourite meal, won´t get she/he a vitamin deficiency? Because you add different ingredients to her/his favourite meal your darling will get a lot of different vitamins and minerals. Furthermore, after 1 or 2 weeks your child looses her/his desire for her/his favourite meal and will automatically eat other meals/foods. The sense of this game is to change habits - your child learns to discover foods and that this could be great fun.
+ I have no idea which ingredients I could add to my child´s favourite meal. What should I do? You could look through our free recipes XXX or other recipe pages to get inspirations. Choose any ingredient and try it out with your child - that´s what the game is about :)
Here are a few variation proposals:
pasta with tomato sauce: carrots (cooked carrots taste sweet, so they could be a good start), zucchini, pepper, aubergine, beans, corn, mushrooms, pears, strawberries, raspberries (here is a recipe for a tomato raspberry soup which you could use as a pasta sauce) or juices, like apple juice or orange juice (Trixilie loves this orange cinnamon tomato sauce),...
pizza: put chopped fruit and vegetables on the pizza, like asparagus, carrots, apples, pears (as in this recipe), zucchini, pepper, peas, beans, corn, mushrooms, tomatoes, cherries (here is a recipe for a cherry pizza), plums (here is an example), red cabbage, spinach,...
chips: you could use any firm fruit or vegetable. Cut it into chips, put them into a bowl, add a bit oil, salt and paprika powder, mix all ingredients, put the chips on a baking tray and bake the chips at 180°C for 15-20 minutes. You can also add an extra portion of hidden fruit and vegetables as a colourful ketchup: Green Bean Cucumber Ketchup, Hot Peach Ketchup (you don´t have to add the cayenne), Raspberry Pepper Ketchup, Cherry Plum Ketchup,
Muffins: Brussels Sprout Muffins, Red Cabbage Muffins with Basil Pesto, Beetroot Muffins, Apple Cherry Muffins, Double Apple Muffins, Donauwelle Cupcakes (a famous German cakes as cupcakes)
On our pinterest board "hidden veggies" you could also get a lot of inspirations.
+ What should I do, when my child doesn't want to play this game? If your child doesn´t want to be a flavour researcher, it´s okay. You could play this game on your own for a few days. If your child still doesn´t want to play this game, perhaps your little darling just doesn´t like this game. That´s totally okay. Not everybody likes Monopoly, so why should everybody like this game? If you like this game, you could play it just for yourself (yes, mummies and daddies are allowed to have fun ;) ) and/or you play another food-game with your child (all games you can find here).
Trixilie and I hope you and your little darling have fun with this game. Let us know how you play it. Write a comment below or mail us some photos of your artwork :) beatrice @ beatricewinkel.com
Hugs and Kisses
Trixilie & Bea