Pear Pea Pepper Soup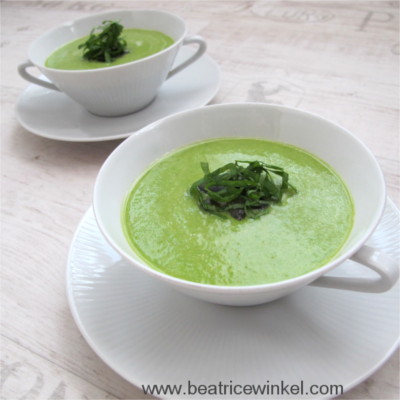 Do you know this situation? You explain which ingredients are in the meal and your guests ask you: Is that tasty? Exactly that situation happened with this soup. But all of our guests wanted more after the first tasting  ;)
Ingredients for 2 people:
1 green pepper (ca. 120g)
1 onion
2 tbsp. of olive oil
1 tbsp. of white wine vinegar
100ml of pear juice
500ml of vegetable stock
1/2 tsp. of salt
1/2 tsp. of cayenne
300g of peas
5 basil stems
2 tbsp. of rice cream
30g of pumpkin seeds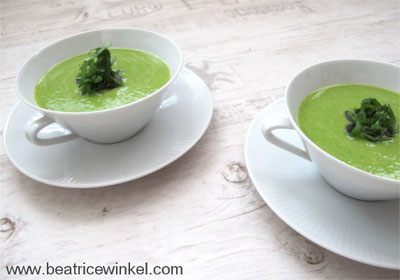 Preparation:
1. Halve the pepper, remove the stem and seeds and remove the skin with a vegetable peeler. Cut the pepper in big pieces.
2. Peel and chop the onion. Heat up the oil at medium heat in a pot and steam the onion glassy. Add vegetable stock and white wine vinegar and boil with an open lid for 10 minutes. Add salt and cayenne.
3. Add green pepper, peas and pear juice and boil at medium heat for 5 minutes. Puree finely with a hand blender. Add the rice cream.
4. Remove the basil leaves from the stems and chop them. Pour the soup into two bowls and serve it with basil and pumpkin seeds.
Enjoy your Pear Pea Pepper Soup :)
Hugs and Kisses
Trixilie & Bea