Brussels Sprout Muffins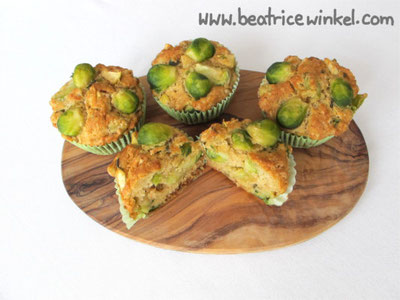 These muffins are delicious with any salad, soup or barbeque. Because of the apple they are just a tiny bit sweet and this is perfect for the Brussels sprouts.
Ingredients for 12 muffins:
300g of Brussels sprout
1 apple
1 onion
300g of flour
1-2 tsp. of green curry paste
2 tsp. baking soda
200ml of oil
200ml of rice milk
20g of pumpkin seeds
2 tsp. of salt
1 tbsp. of lemon juice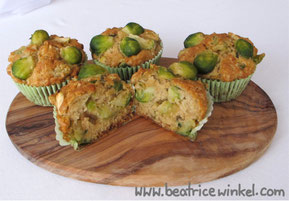 Preparation:
1. Preheat the oven to 180°C / 160°C fan / gas 4. Line a 12-hole muffin tin with paper cases.
2. Remove the Brussels sprouts stalk. Cook the Brussels sprout in hot salt water for 10 minutes.
3. Peel and chop the onion. Quarter the apple, remove the core and cut the apple in small pieces. Chop the pumpkin seeds.
4. Mix in a big bowl flour, baking soda, onion, apple, pumpkin seeds, curry paste, oil, rice milk, salt and lemon juice with a wooden spoon to make a firm dough.
5. Strain the Brussels sprouts through a sieve. Quarter 2/3 of the Brussels sprouts and mix into the dough. Fill the muffin cases with the dough. Halve the rest of the Brussels sprouts and top it on the muffins.
6. Bake it for 20 minutes. Leave the muffins in the tin to cool for 10 minutes.
Enjoy your Brussels sprout muffins ;)
Hugs and Kisses
Trixilie & Bea