zucchini pasta with parsley-almond-pesto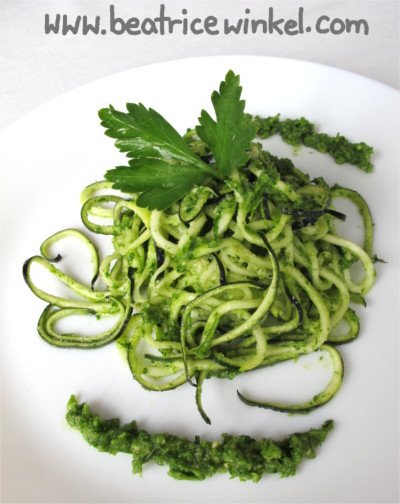 Let´s eat green pastaaaaaaaaa… ;)
Ingredients for 2 people:
1 or 2 zucchini
1 bunch of parsley
4 tbsp. of olive oil
100g of chopped almonds
1 garlic clove
1 tbsp. of lime juice
1/4 tsp. of salt
1/2 tsp. of ground pepper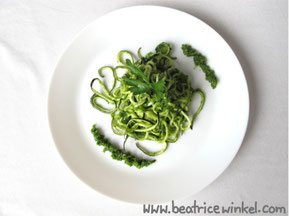 Preparation:
1. Peel the garlic clove. In a blender, place the garlic and parsley.
2. Toast the chopped almonds in a dry pan. Add it into the blender. Add salt, pepper, 3 tbsp. of olive oil and lime juice and blend it all into a pesto.
3. Cut off the ends of the zucchini. Cut the zucchini in "fettuccine" with a potato peeler or in "spaghetti" with a vegetable spiralizer.
4. In a pan, heat up the oil, add the zucchini and fry for 2 minutes. Remove the pan from the cooker. Place the pesto into the pan and mix all. Place the zucchini on two plates.
Enjoy your zucchini pesto ;)
Hugs and Kisses
Trixilie & Bea