Zucchini Pear Tarte Flambee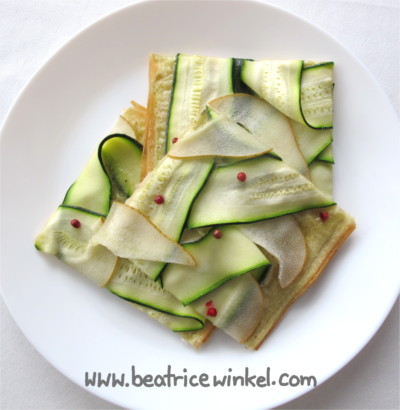 The Zucchini Pear Tarte Flambee is a great summer meal or a nice appetizer. It is easy to prepare, so try it out ;)
Ingredients for 2 people:
5 sheets phyllo dough (30x31cm, ca. 125g)
6 tbsp. of olive oil
1 zucchini
1 pear
120ml oat cream
2 basil stems
2 thyme stems
1/2 tsp. of salt
1/2 tsp. of pepper powder
1 tsp. of pink pepper
1 tbsp. of lemon juice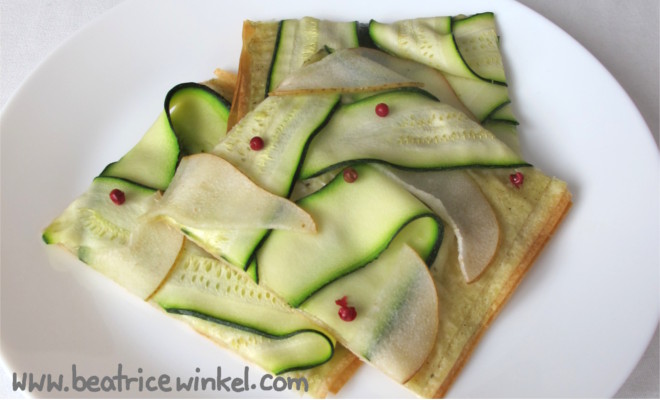 Preparation:
Preheat the oven to 250°C /220°C fan / gas 5-6.

In a blender, place the basil leaves, thyme stems, lemon juice, salt and pepper and blend it to a smooth cream.

Cut off the ends of the zucchini and slice the zucchini. In a bowl, mix the zucchini slices, 2 tbsp. oil, salt and pepper. Quarter the pear and remove the core. Slice the pear quarters.

Place a baking sheet on a baking tray. Place on the baking sheet one sheet phyllo dough and coat it with 1 tbsp. of olive oil. Place another phyllo sheet on top of the first and coat it with 1 tbsp. of olive oil. Repeat until all sheets are stacked and coated, but coat the last sheet phyllo dough with the basil thyme cream.

Place the zucchini slices and pear slices on the cream and bake for 5 minutes.

Cut into 6 slices and serve.