turnips pasta with almond sauce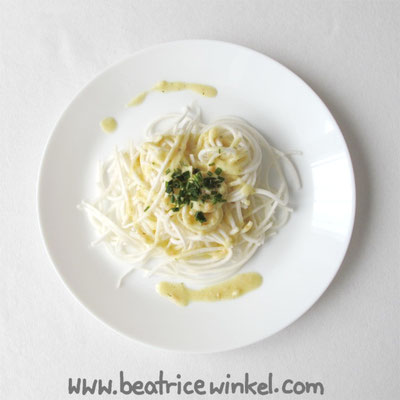 This is a really great summer recipe. If you like to eat pasta, but don´t like the heat of cooking, this is your solution ;)
ingredients for 2 people:
2 turnips
1 garlic clove
125ml of vegetable stoke
1 tbsp. of olive oil
2 tbsp. of almond butter
1 tbsp. of lime juice
1/2 bunch chives
1 pinch of salt
1 pinch of white ground pepper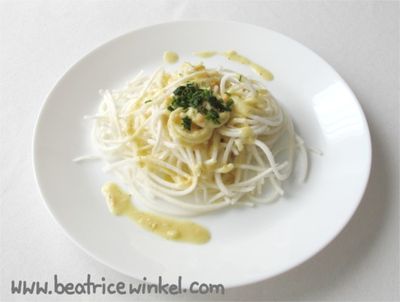 preparation:
1. Peel the turnips and cut off the ends. Cut the turnips in "fettuccine" with a potato peeler or in "spaghetti" with a vegetable spiralizer. Place the "noodles" on two plates.
2. Peel and chop the garlic. Heat the oil in a pan and add the garlic. Sauté lightly for 1 minute. Add the vegetable stoke and stirring for 1 minute. Add almond butter, lime juice, salt and pepper.
3. Chop the chives. Put the almond sauce on the turnips noodles and serve it with chives.
Enjoy your "pasta" ;)
Hugs and Kisses
Trixilie & Bea