Rice Paper Rolls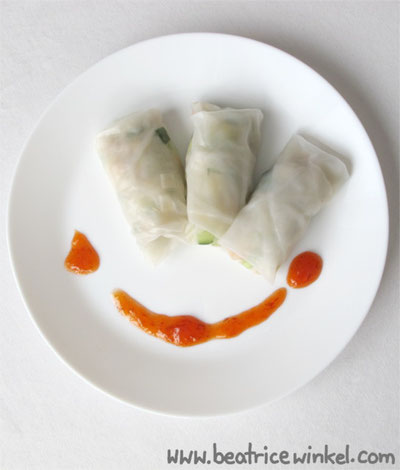 A perfect finger food for nearly every age ;)
Ingredients for 6 rolls = 2 people:
6 rice paper wraps
80g of cucumber
50g of radish
1 spring onion
1 pear
100g of precooked white beans
2 stems of mint
1 tbsp. of sweet chilli sauce
1 tbsp. of vinegar
1 tbsp. of sesame oil
1/4 tsp. of salt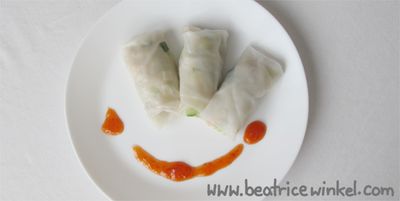 Preparation:
Halve the cucumber lengthwise, remove the seeds. Cut the cucumber in small pieces. Peel the radish and cut it into small pieces. Slice the spring onion into rings. Halve the pear lengthwise and remove the core. Cut the pear into small pieces. Chop the mint leaves. Strain the white beans through a sieve.
In a bowl, mix the cucumber, radish, spring onion, pear, mint, white beans, sweet chilli sauce, vinegar, sesame oil and salt.
Pour warm water into a heatproof bowl until half full. Dip 1 rice paper wrapper in water. Place on a flat surface. Stand for 20 to 30 seconds or until soft enough to roll without splitting.
Place 2 tbsp. of the cucumber mixture along 1 edge of 1 wrapper. Fold in ends. Roll up firmly to enclose filling. Repeat with remaining rice paper wraps and cucumber mixture.
Serve it with sweet chilli sauce.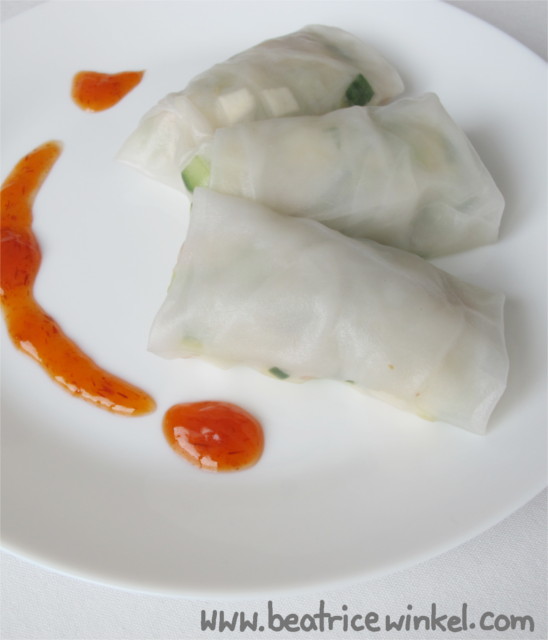 Enjoy your meal :)
Hugs and Kisses
Trixilie & Bea