Black Salsify Risotto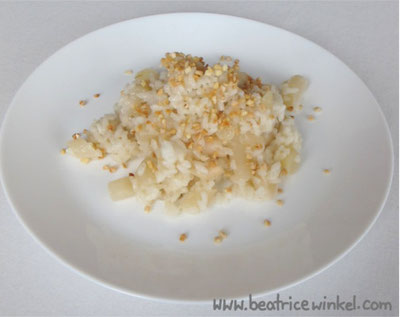 Im Frühling gibt es ja unglaublich viele Rezepte für allerlei Spargel-Variationen. Jedoch was gibt es dann im Winter? Genau den Winter-Spargel. Besser bekannt unter Schwarzwurzel.
Ingredients for 1 person:
75g of black salsify
60g of risotto rice
1 small onion
250ml of vegetable stock
1 lime
1 tbsp. of olive oil
1 + 1/4 tsp. of salt
1/4 tsp. of ground white pepper
1 tbsp. of chopped almonds
2 litre water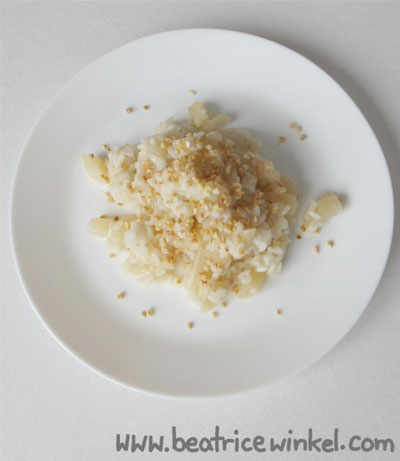 Preparation:
Halve and squeeze the lime. In a pot, mix 1/2 of the lime juice, 1tsp. of salt and the water. Remove the skin of the black salsify with a vegetable peeler (use disposable gloves or you will get black hands ;) ). Cut the peeled salsify into 1cm pieces and put them into the lime water. Bring the lime water to the boil and let it simmer at medium heat for 10 minutes. Then drain the salsify.
In a pot, bring the stock to the boil. Peel and chop the onion. In another pot, heat up the oil, add the onion and fry it at medium heat for 3 minutes. Add the rice and fry with frequently stirring it for 1 minute.
Add the rest of the lime juice and pour so much warm stock into the pot, that the rice is covered with it, stir every now and then until it has all disappeared into the rice. Then carry on adding stock and stirring the rice until you have used up all the stock and the rice is al dente - this will take about 15 minutes. After 10 minutes add the salsify and continue as before.
Meanwhile toast the chopped almonds golden brown in a dry pan.
Season the risotto with salt and pepper and place it onto two plates. Sprinkle it with the almonds.
Enjoy the meal :)
Hugs and Kisses
Trixilie & Bea