Potato Pizza Cake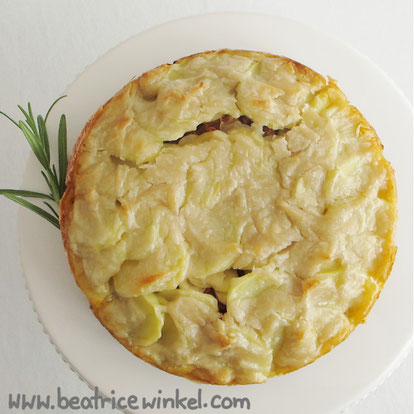 Here there is a wonderful recipe I would like to share with you, because I believe you will love it as much as I do! Trixilie and I prepared it the other day and we really loved it! So delicious 😊
Potato Pizza Cake
Ingredients for 2 people (18cm diameter baking tin):
200g of potatoes,
150g of flour,
180ml + 2 tbsp. of almond milk,
80g of yellow carrots,
80g of dried tomatoes preserved in oil,
3 tbsp. of oil (use the oil of the dried tomatoes),
1 tsp. of baking soda,
1 clove of garlic,
1,5 tsp. of salt,
1 tbsp. of cashew cream,
2 tsp. of tahin (sesame cream)

Preparation:
1. Preheat the oven to 180°C / 160°C fan / gas mark 4.
2. In a big bowl, mix the flour, baking soda, 0,5 tsp. of salt, 180ml of almond milk and 2 tbsp. of oil to a form dough. Place the dough evenly in the baking tin.
3. Peel the garlic. Place the garlic, tomatoes and 1 tbsp. of oil in a blender and blend all ingredients to a smooth cream. Pour the cream on the dough evenly.
4. Peel and slice the carrots. Place the carrot slices on the tomato cream.
5. Peel and slice the potatoes. Place the potato slices on the carrots.
6. In a small bowl, mix the cashew cream, 2 tbsp. of almond milk, tahin and 1 tsp. of salt. Pour this on the top of the potatoes.
7. Bake the Potato Pizza Cake in the oven on the middle rack for approx. 25 minutes. Remove the cake from the oven and let it cool down for at least 10 minutes. Remove the baking tin and serve the cake.
Enjoy you delicious Potato Pizza Cake :)
Best wishes
Bea