Apricot Iced Tea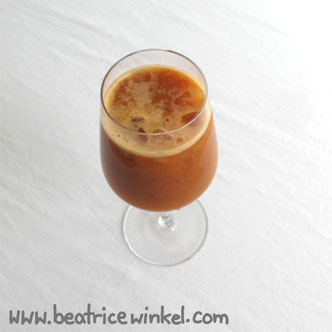 A super simple recipe for a homemade apricot iced tea that requires just 5 ingredients. This is the perfect drink for hot summer days!
Apricot Iced Tea
ingredients for 2 Person:
1 teabag black tea (or the appropriate quantity of tea leaves)
400ml of water
100g of apricots
1 tbsp. of lemon juice
2 tsp. of agave syrup
some ice cubes if desired
preparation:
Bring the water to boil and remove from heat. Place the tea bag in a large heatproof glass pitcher. Pour the simmering water into the pitcher and let it steep for at least 5 minutes. Remove the tea bags and discard.
Cut the apricots into small chunks and add it into the pitcher. Puree finely with an immersion blender.
Add lemon juice and agave syrup. Refrigerate the tea until cool.
To serve, fill two glasses with ice and pour the tea over the ice. Sweeten with agave syrup, if desired.
enjoy your apricot-iced-tea 😊
best wishes
Bea