orange vegetable tower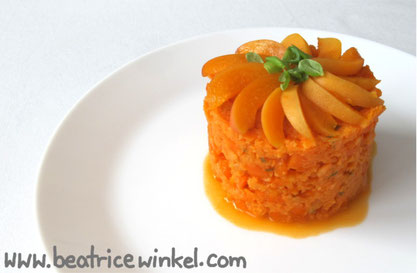 A really fresh meal for hot days 😉
orange vegetable tower
Ingredients for 2 people:
200g of orange pepper
250g of carrots
80g of apricots
2 tsp. of tarragon mustard (or mix 2 tsp. of mustard and 1/2 tsp. of chopped tarragon)
2 tsp. agave syrup
1 tbsp. of lemon juice
1 tsp. of paprika powder (mild or spicy - as you like)
1 tsp. of salt
1 tsp. of milled pepper
1 basil stem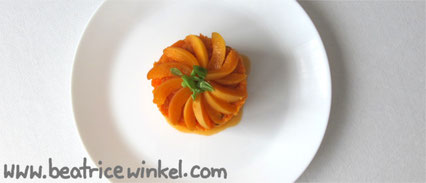 Preparation:
1. Peel and grate the carrots and place it in a bowl.
2. Halve the orange pepper, remove the stem and seeds and cut the pepper in small pieces. Add it into the carrot bowl.
3. Halve the apricots and remove the stones. Slice the apricot halves.
4. Mix in a cup the dressing: Mix the tarragon mustard, agave syrup, lemon juice, paprika powder, salt and milled pepper. Add this dressing into the carrot mixture and mix all ingredients well.
5. Place a ring mold in the middle of a plate. Place the half of the carrot salad into the ring mold and press it slightly down. Remove the ring mold carefully. Place the half of the apricot slices in a circle on the top of the carrot salad. Repeat this with the second half of the salad and apricot slices.
6. Serve both towers with basil leaves.
Enjoy your orange apricot carrot salad 😉
Best wishes
Bea