apricot almond pancakes with mango cubes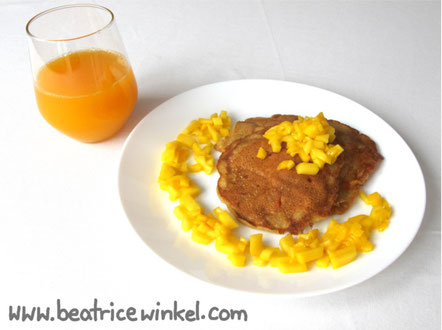 a delicious breakfast for Sunday morning :)
apricot almond pancakes with mango cubes
ingredients for 2-3 persons:
1 Mango
150g of apricots
120g of flour
50g of ground almonds
50g of brown sugar
1 tsp. of baking soda
300ml of almond milk
1/2 tsp. of vanilla powder (or of vanilla extract)
oil for frying
preparation:
Peel, seed and cube the mango.
In a medium bowl mix flour, ground almonds, brown sugar, baking soda and vanilla powder or vanilla extract. Add almond milk and mix well. Peel, seed and cube the apricots and mix them into the batter.
Preheat oven to 100 degrees (80 degrees fan).
Heat 1 tbsp. in a fry pan. Ladle batter into the pan, using the back of the ladle to spread batter into a round. Flip pancakes carefully with a thin spatula after bubbles rise to surface and bottoms brown (after 2 to 4 minutes). Cook until second side is lightly brown (30 seconds). Serve, or hold on an ovenproof plate in preheated oven. Continue with more oil and remaining batter.
Remove the pancakes from the oven and serve with mango cubes.
Tip: Serve with freshly-squeezed orange juice. For 1 glass you need 3 oranges.
enjoy your breakfast ;)
best wishes
Bea