Carrot Halwa
Okay, it doesn't look really sexy, but it tastes great. Especially after long days or as breakfast 😊
Carrot Halwa
Ingredients for 1 person:
80g of carrots
1 tbsp. of coconut oil
2 tbsp. of chopped almonds
2 tbsp. of semolina
1 tbsp. of raisins
200ml of almond milk
1 tbsp. of brown sugar
1/2 tsp. of cardamom powder
1/2 tsp. of vanilla powder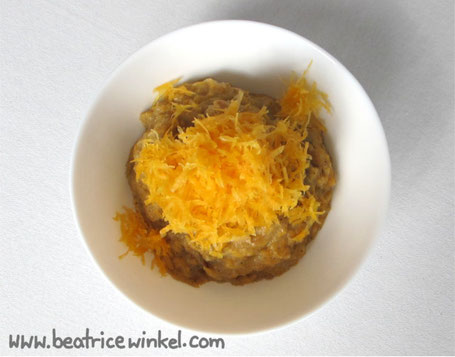 Preparation:
Cut of the ends of the carrots. Grate the carrots finely.
In a pot, heat up the coconut oil. Add the semolina and fry it at medium heat for 1 minute. Stir all the time. Add the almond milk and stir thoroughly. Add the almonds, raisins, brown sugar, cardamom, vanilla and 2/3 of the carrots. Let it simmer for 4 minutes and stir every now and then.
Place the Carrot Halwa in a bowl and top it with the rest of the carrots.
Enjoy your meal.
Best wishes
Bea