cold peach soup with lemon sorbet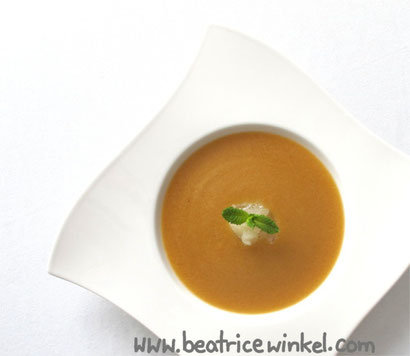 That is my favourite cold soup (and here is my second favourite). So delicious and wonderful for hot days.
cold peach soup with lemon sorbet
ingredients for two persons:
lemon sorbet:
10g of brown sugar
100ml of lemon juice (juice of 1 lemon)
1 pinch salt
cold peach soup:
100g of peach
10g brown sugar
400ml of pears juice
1 pinch vanilla powder (or some drops of vanilla extract)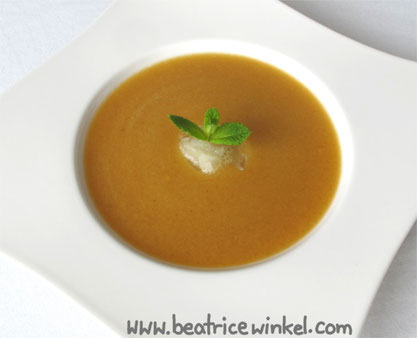 preparation:
1. lemon sorbet: Mix the brown sugar, lemon juice and salt in a bowl and leave it until sugar is dissolved (for 10 minutes). Put the bowl into the freezer for at least two hours. Stir every 15 minutes.
2. cold peach soup: Halve peaches, remove the stone and cut the peach halves into small pieces. Place the peach pieces, brown sugar, pear juice and vanilla powder (or vanilla extract) into a blender. Blend until all ingredients are smooth. Put the soup into the fridge for 1 1/2 hours.
3. Arrange the peach soup with the lemon sorbet on two deep plates.
Enjoy Your cold peach soup with lemon sorbet 😊
Best wishes
Bea