Tomato tarte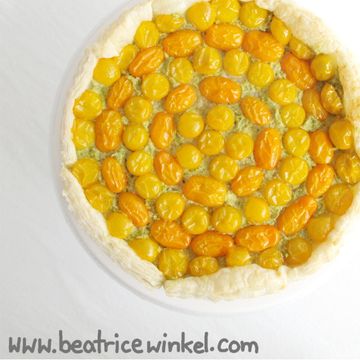 A really simple recipe for a delicious tomato tarte. 😉
Tomato tarte
ingredients for 4 people:
250g of puff pastry,
360g of yellow tomatoes,
1 tbsp. of sesame cream (tahin),
1 garlic clove,
2 thyme stems,
1/2 bunch of basil,
2 tbsp. of lemon juice,
2 tbsp. of olive oil,
1/2 tsp. of salt,
1/2 tsp. of pepper spice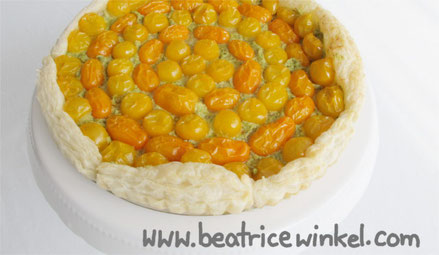 preparation:
1. Preheat the oven to 180°C / 160°C fan / gas 4.
2. Peel the garlic clove and place it in a blender. Add sesame cream, thyme leaves, basil leaves, salt, pepper, lemon juice and olive oil and blend it until a smooth cream.
3. Place the puff pastry in a tarte form or springform (28cm diameter). Spread the tarte with the cream.
4. Slice or halve the tomatoes and place them on the cream.
5. Put the tarte in the oven on the lowest rack and back for 15-20 minutes. Let the tarte cool down for 2-3 minutes.
Enjoy your simple and delicious tomato tarte :)
Best wishes
Bea