Raspberry Pepper Ketchup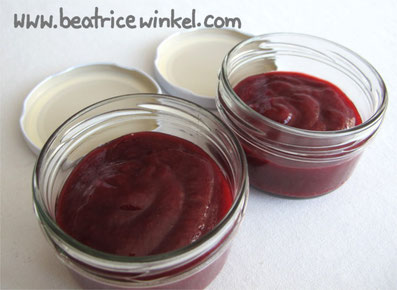 This ketchup is perfect for every barbeque, savoury meal and with some vegetable sticks 😉
Raspberry Pepper Ketchup
Ingredients for approx. 300ml:
500g of raspberries
125ml white balsam vinegar
100g of sugar
1/2 tsp. of pink pepper
1/2 red chilli
1/2 tsp. of salt
1cm of ginger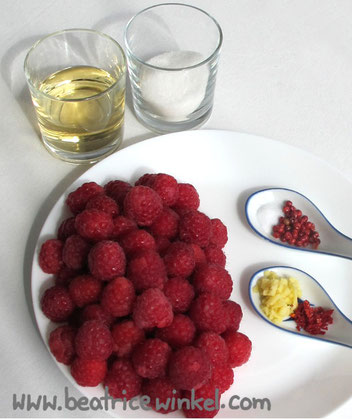 Preparation:
Remove the seeds from the chilli. Chop the chilli.
In a pot, cook vinegar and sugar for 1 minute. Add raspberries, pink pepper, chilli, ginger and salt. Cook all ingredients at medium heat for 10 minutes. Stir every now and then.
Remove the pot from the heat and let it cool down for 10 minutes.
Place a sieve on a bowl and press the raspberry ketchup through this sieve. (If you like the raspberry seeds in the ketchup, you don´t need this step.)
Place the Raspberry Ketchup into twist off glasses.
Enjoy your Raspberry Pepper Ketchup.
Best wishes
Bea