tomato raspberry soup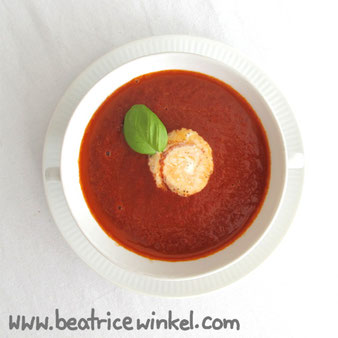 The taste of tomatoes with fruits is wonderful. So I created a soup with tomatoes and raspberries. I hope, you will like it 😊
tomato raspberry soup
ingredients for 2 people:
200g of tomatoes
50g of raspberries
300ml of stock
1 clove of garlic
1 little red onion
1 tbsp. of olive oil
1 tbsp. of tomato paste
1 basil stem
1 tsp. of salt
1 pinch of cayenne
1 pinch of sugar
2 tsp. of rice cream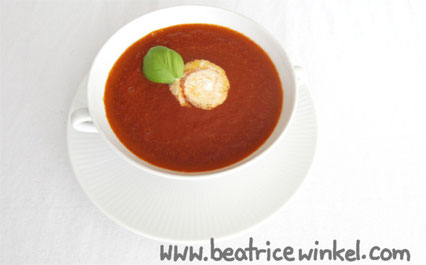 preparation:
1. Quarter the tomatoes, remove the stem base and cut the tomatoes into little pieces.
2. Peel the onion garlic clove and cut them into small pieces. Heat oil in a pot, soften the onion and garlic. Add tomato paste and tomato pieces and simmer for 1 minute.
3. Add the stock and simmer for about 10 minutes with an open lid. Add raspberries and simmer for about 5 minutes with an open lid. Puree finely with an immersion blender.
4. Add salt, cayenne and sugar. Pour the soup into two deep plates and serve with rice cream and basil leaves.
Enjoy your tomato raspberry soup.
Best wishes
Bea