Cherry Pizza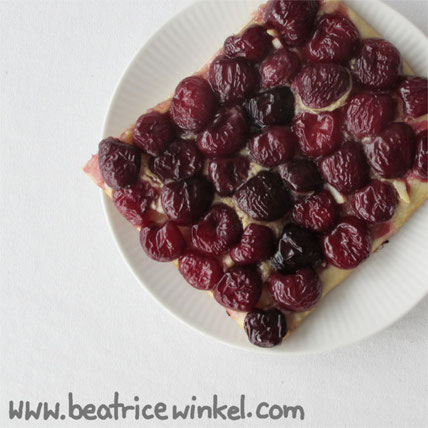 mmmhhh... cherries and almonds 😊
Cherry Pizza
Ingredients for 4 people:
dough:
500g of flour
15g fresh yeast
50g of brown sugar
1 pinch of salt
1 tbsp. of olive oil
300ml of lukewarm almond milk
cream:
200ml of almond milk
100ml of cherry juice
1 tbsp. of starch
1 vanilla bean
2 tbsp. of brown sugar
topping:
400g of cherries
100g of almonds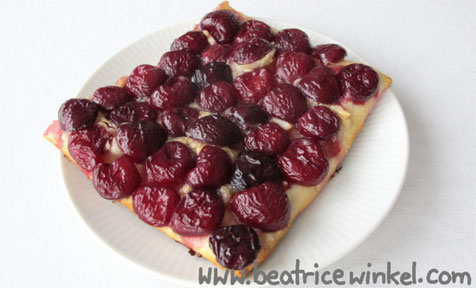 Preparation:
Sift the flour and salt into a large bowl. Make a well in the middle and add the yeast, sugar and almond milk. Leave it for 5 minutes.
Then add oil and salt and knead all ingredients to a firm dough. Cover the dough with a tea towel and leave it in a warm place for 1,5 - 2 hours.
Halve the cherries and remove the stones.
Cream: Halve the vanilla bean lengthwise and remove the seeds with a teaspoon. In a bowl, mix the vanilla seeds, almond milk, cherry juice, brown sugar and starch.
Once the dough has rested, knead it to 3 balls with the same size. Roll each dough ball out onto a floured work surface and lay each rolled dough on a baking tray that is covered with baking paper.
Preheat the oven to 180°C (fan: 160°C / gas mark 4).
Spread the cream on the dough, sprinkle the cherries on it and back it on the middle rack for 30 minutes. (You can bake all three pizzas after the other).
Meanwhile chop the almonds and toast it in a pan without oil.
Remove the pizza from the oven and serve it with the almonds.
Enjoy your Cherry-Pizza.
Best wishes
Bea