Cranberry Pears with Bean Salad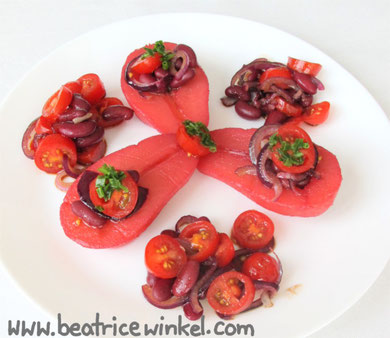 A sweet and savoury meal for every season.
Cranberry Pears with Bean Salad
Ingredients for 2 people:
3 pears
350ml of cranberry juice
150g of precooked kidney beans
250g of tomatoes
2 tbsp. of brown sugar
1 red onion
1 garlic clove
2 tbsp. balsam vinegar
2 tbsp. of olive oil
1/2 tsp. of salt
1/2 tsp. of ground pepper
a bit chive as topping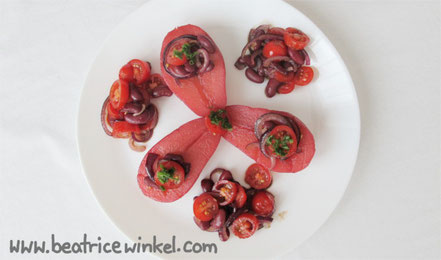 Preparation:
Peel and halve the pears. Remove the core. Plane the pear halves a little bit (so they could better lye on the plate).
In a pot, mix the cranberry juice and the sugar and bring it to the boil. Add the pear halves and let it simmer at a low heat for 20 minutes. After this the pear are red.
Meanwhile rinse the kidney beans in cold water. Peel and chop the onion and garlic. In a pan, heat up the oil. Add the onion and garlic and fry it at a medium heat for 2 minutes. Add the vinegar, kidney beans, salt and pepper and let it simmer for 5 minutes. Stir every now and then.
Cut the tomatoes in small pieces and mix it with the kidney beans.
Serve the Cranberry Pears with Bean Salad on two plates and top it with chive.
Hint: You can drink the rest of the cranberry juice.
Enjoy your cranberry pears.
Best wishes
Bea