beetroot pasta with spicy tomato sauce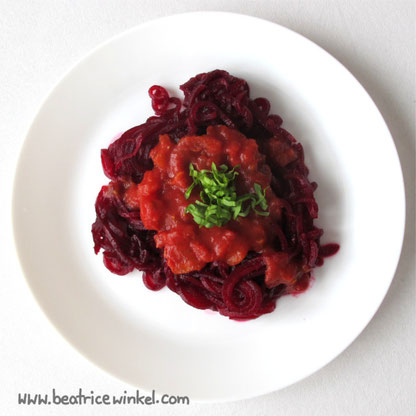 This is a really great summer recipe. If you like to eat pasta, but don´t like the heat of cooking, this is your solution 😉
beetroot pasta with spicy tomato sauce
ingredients for 2 people:
2 precooked beetroots,
300g of tomatoes,
1 red onion,
1 garlic clove,
1/2 rosemary stem,
1 thyme stem,
1 tbsp. olive oil,
1 pinch cayenne,
1/2 tsp. of salt,
1 tbsp. of balsam vinegar,
1 tbsp. of tomato paste
1 basil stem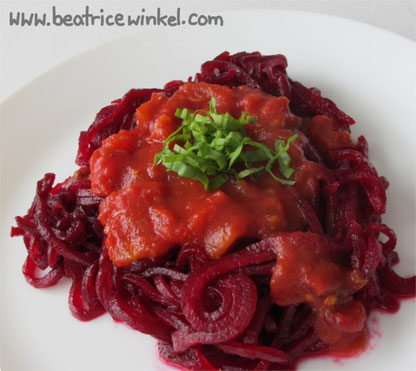 preparation:
1. Cut the tomatoes in little pieces and cut off the green stem base. Chop the rosemary and thyme. Peel and chop the onion and garlic.
2. Heat the oil in the saucepan and add the onion and garlic. Sauté lightly for 2 minutes. Add thyme, rosemary and tomato paste and stirring for 1 minute.
3. Add tomatoes, cayenne and salt. Let everything simmer for about 10 minutes, stir from time to time.
4. During this time cut the root beet in "fettuccine" with a potato peeler or in "spaghetti" with a vegetable spiralizer (use disposable gloves). Place the root beet noodles on two plates.
5. Chop the basil leaves. Put the tomato sauce on the root beet noodles and serve it with basil.
Enjoy your red pasta 😉
Best wishes
Bea