Cherry Tomato Tower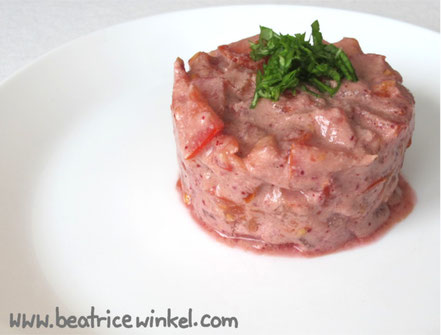 This salad looks a bit... not sooo delicious, but it is 😊 Perhaps it is a perfect Halloween salad 😉
Ingredients for 2 towers:
360g of tomatoes
1 onion
1 garlic glove
70g of cherries
20g of almonds
1 tbsp. of oil
1/2 tbsp. of balsam vinegar
1 tsp. of salt
1/2 tsp. of ground pepper
1 stem of basil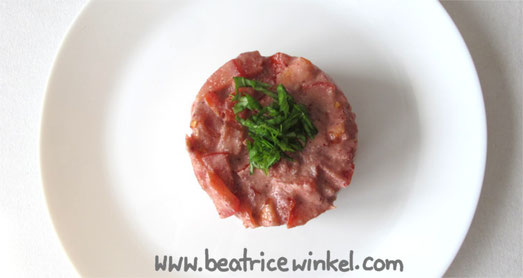 Preparation:
Quarter the tomatoes and cut off the green stem base. Cut the tomatoes in small pieces and place it in a bowl.
Peel and chop the onion and garlic. Chop the basil leaves.
Halve the cherries and remove the stones.
In a blender, place onion, garlic, cherries, almonds, oil, vinegar, salt and pepper and mix it to a smooth pesto.
Mix the tomatoes and the cherry pesto.
Place a ring mold in the middle of a plate. Place the half of the tomato cherry salad into the ring mold and press it slightly down. Remove the ring mold carefully. Repeat this with the second half of the tomato cherry salad.
Place the chopped basil leaves on the top of the towers.
Enjoy your Red Tower 😉
Best wishes
Bea