tomato vanilla marmalade with basil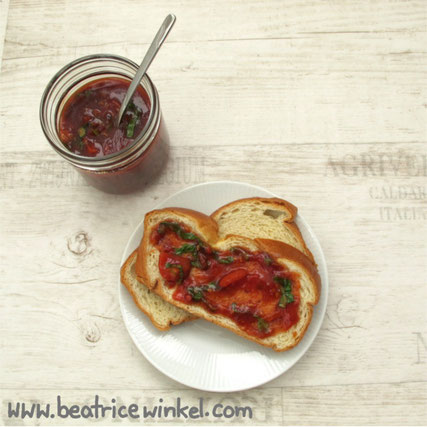 This tomato vanilla marmalade with basil is great. Yes, tomato marmalade. It taste delicious to bred, muffins, noodles and everything you also like to eat 😊 And the recipe is quite simple.
tomato vanilla marmalade with basil
ingredients for two glasses:
1 tsp. of vanilla powder
250g of red tomatoes
1 tsp. of lemon zest
2 tbsp. of lemon juice
1 pinch of salt
1 tbsp. tomato paste
1 tsp. agar
80g of brown sugar
1/2 bunch of basil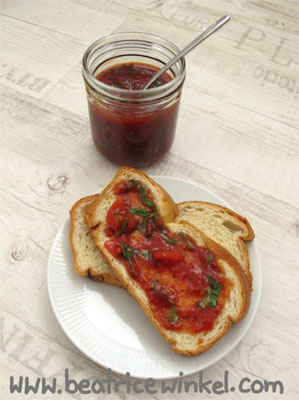 preparation:
1. Quarter the tomatoes, cut off the green stem base and cut the tomatoes in small pieces.
2. Place the tomato pieces, lemon zest, lemon juice, vanilla powder, salt, tomato paste and brown sugar in a pot. leave it for at least 30 minutes.
3. Add agar and mix all ingredients. Bring it to the boil, simmer and stir for 2 minutes, then let it cool.
4. Chop the basil leaves, stir in the marmalade. Fill it in the glasses.
Enjoy your jam 😊
Best wishes
Bea