berry marzipan soup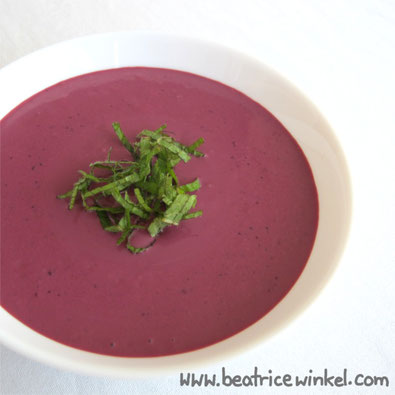 Do you know marzipan soups? These are a wonderful dessert main course. The taste is creamy, fruity-sweet and a tiny bit sour. So it combines all tastes 😉
berry marzipan soup
ingredients for 2 people:
140g of blueberries,
140g of blackberries,
80g of strawberries,
(you could also use 360g of frozen berries)
1 lime,
200ml of blackcurrant juice,
80ml of rice cream,
160g of marzipan,
1/2 tsp. of vanilla extract or powder,
1 pinch of cinnamon powder,
1 mint stem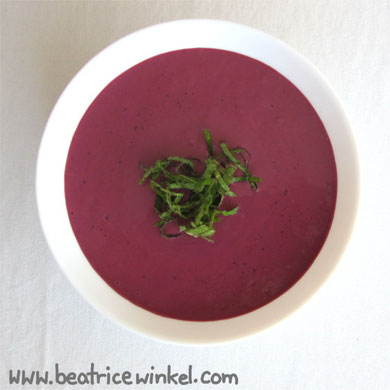 preparation:
1. Cut off the green top of the strawberries. Place the strawberries, blueberries and blackberries in a blender. (If you use frozen berries, allow to defrost at room temperature for approx. 1 hour)
2. Halve and squeeze the lime. Add lime juice and blackcurrant juice into the blender. Blend until smooth. (If you don´t like to have the berry seeds in the soup, strain the soup through a fine sieve)
3. Cut the marzipan in little pieces. Add the marzipan, vanilla, rice cream and cinnamon into the (strained) soup and blend again. Put the soup into the fridge for about 30 minutes.
4. Chop the mint leaves. Serve the soup in two bowls with mint leaves.
Enjoy your berry marzipan soup 😊
Best wishes
Bea