Stuffed Kidney Onion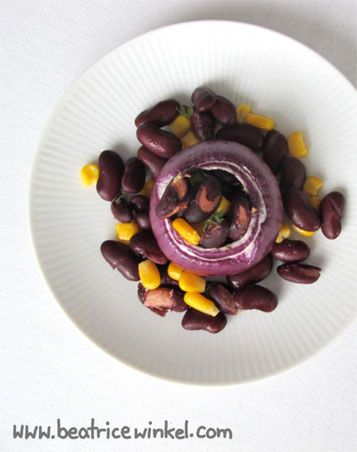 This is a really simple and fast food 😉
Stuffed Kidney Onion
Ingredient for 2 people:
4 red onions
150g of precooked kidney beans
150g of precooked corn grains
1/2 bench of coriander
2 tbsp. of olive oil
1/2 tsp. of cumin
200ml of vegetable stock
1/2 tsp. of salt
1/2 tsp. of ground pepper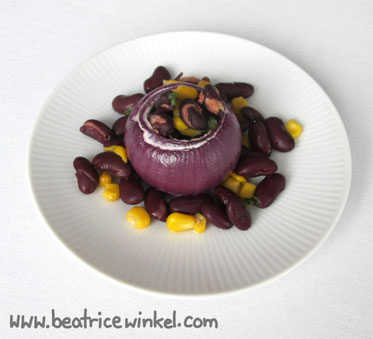 Preparation:
Chop the coriander leaves. Drain and rinse the kidney beans and corn grains in a colander.
Preheat the oven to 180°C (fan: 160°C, gas mark 4).
Peel the onions and cook them in salted water for approx. 10 minutes. Remove the onions from the water. Cut off a "onion lid" and hollow out the onions. Chop 2 tbsp. of the taken out onions.
In a pan, heat up the oil at medium heat. Add the chopped onion and cumin and fry for 1 minute. Add the coriander, corn, kidney beans, salt and pepper and fry for 2 minutes.
Pour this mixture in the onions and place them in a casserole. Place the rest of the mixture around the onions and add the vegetable stock. Bake in the oven on the middle rack for approx. 15 minutes.
Remove the onions from the oven and place them with the rest of the filling on two plates.
Enjoy your onions 😉
Best wishes
Bea