Cherry Plum Ketchup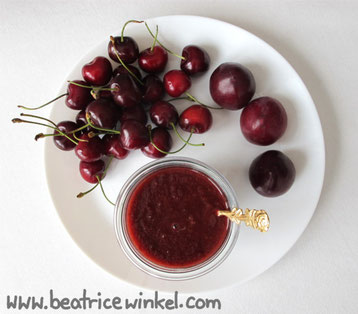 This ketchup is even perfect for barbeques or for savoury meals in autumn and winter times.
Cherry Plum Ketchup
Ingredients for approx. 500ml Ketchup:
400g of cherries
250g of plums
5g of fresh ginger
50g of brown sugar
40ml of balsam vinegar
100ml of water
1 pinch of cayenne
1/2 tsp. of salt
1 anise star
1 bay leaf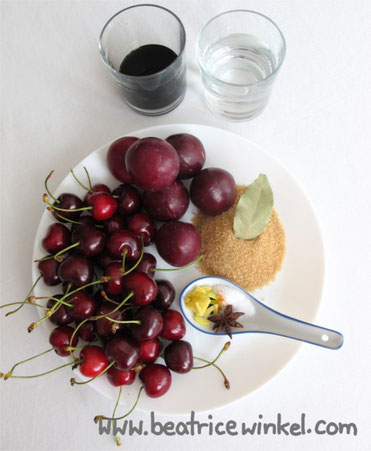 Preparation:
Halve the cherries and plums. Remove the stones. Cut the cherry halves and plum halves into small pieces.
Peel and chop the ginger.
In a pot, mix the water, vinegar, brown sugar, ginger, cayenne, salt anis star and bay leaf and bring it to the boil for 1 minute.
Add the cherries and plums and let it simmer at medium heat without lid for 10 minutes.
Remove the pot from the heat and let it cool down for 10 minutes. Remove the anis star and bay leaf. Finely puree with an immersion blender and place the Cherry Plum Ketchup in twist off glasses.
Enjoy your Cherry Plum Ketchup
Best wishes
Bea