red cabbage soup with pine nuts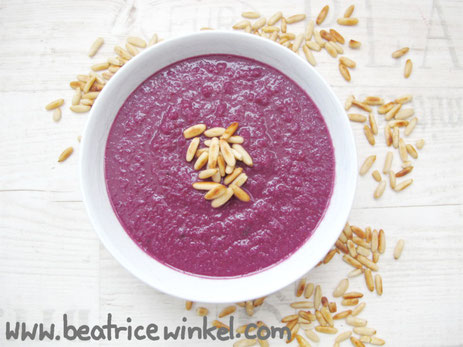 A great soup for every season
red cabbage soup with pine nuts
ingredients for 4 people:
1 little red cabbage (ca. 1kg),
3 potatoes (ca. 400g),
1 violet carrot,
1 onion,
1 garlic clove,
1 liter of vegetable stoke,
200ml of apple juice,
2-3 tbsp. olive oil,
1 tsp. salt,
1 tsp. pepper spice,
3 cloves,
1 bay leaf,
1 tsp. ground nutmeg,
2 tbsp. agave syrup,
3 tbsp. lemon juice,
50g of pine nuts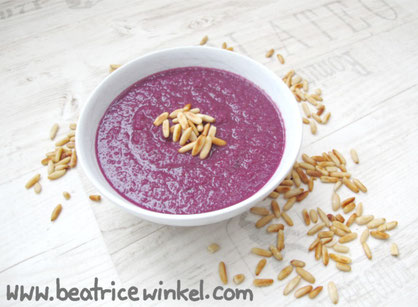 preparation:
1. In a dry frying pan, toast the pine nuts until they are golden. Peel the potatoes. Chop the potatoes, red cabbage and carrot. Peel and chop the onion and garlic. Heat the stoke and apple juice.
2. Heat the olive oil in a pot, add onion and garlic. After 2-3 minutes add red cabbage, potatoes and carrots. After 1-2 minutes add stoke and apple juice. Put in a tea ball the cloves and bay leaf and add it into the soup. Cover the pot and let all cook on a middle flame for 20 minutes.
3. Remove the tea ball and puree the soup. Add agave syrup, lemon juice, nutmeg, salt and pepper. Pour the soup in bowls and top it with the toasted pine nuts.
I wish you a delicious soup experience 😉
Best wishes
Bea