beetroot muffins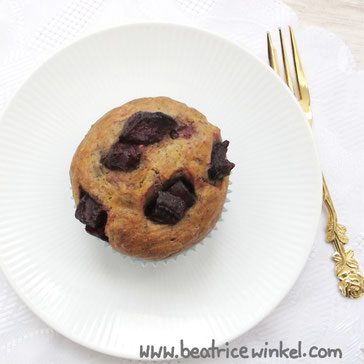 These muffins are a delicious break time snack: you can eat them lukewarm or cold, plane, with salad or soup.
beetroot muffins
ingredients for 12 beetroot muffins:
300g of flour,
320g of precooked beetroots,
60g of ground walnuts,
360ml almond milk,
120ml of oil,
2 tsp. of baking soda,
1/2 tsp. ground pepper,
2 tbsp. of white wine vinegar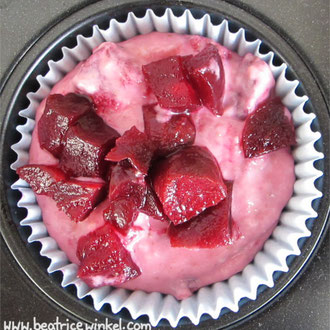 preparation:
1. Cut the beetroots in small cubes. Put aside 20g of the beetroot cubes.
2. Preheat the oven to 180°C / 160°C fan / gas mark 4. Line a 12-hole muffin tin with paper cases.
3. In a big bowl, mix the flour, ground walnuts, baking soda, salt and ground pepper. Add the almond milk, oil and vinegar and mix all ingredients thoroughly to make a firm dough. Add 300g of the beetroot cubes and mix all again. Fill the muffin cases and place 20g of the beetroot cubes on top.
4. Bake the muffins in the oven on the middle rack for approx. 20 minutes. Remove the muffins from the oven and let them cool down for 5 minutes.
Enjoy your beetroot muffins 😊
Best wishes
Bea