red cabbage muffins with basil pesto
Best way to eat red cabbage 😉
red cabbage muffins with basil pesto
ingredients for 12 muffins:
250g of flour
50ml of oil
320g - 340g of cooked red cabbage
200ml of rice milk
1 red onion
2 tsp. of baking soda
2 thyme sprigs
2 tbsp. of apple vinegar
1 tsp. of salt
1/2 tsp. of pepper spice
1 tbsp. of agave syrup
1 tbsp. of chopped walnuts
topping:
basil pesto
basil leaves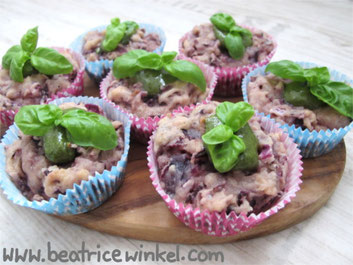 preparation:
1. Preheat the oven to 180°C / 160°C fan / gas 4 and line a 12-hole muffin tin with paper cases.
2. Peel and chop the onion. Chop the thyme sprigs. Mix in a bowl red cabbage, onion, thyme, walnuts, rice milk, oil, agave syrup, apple vinegar, salt and pepper.
3. Mix in a bowl flour and baking soda. Add the cabbage mixture and mix all thoroughly with a wooden spoon to make a firm dough.
4. Fill muffin cases and bake for 30 minutes. Leave the muffins in the tie to cool for 10 minutes.
5. Frost muffins with basil pesto and basil leaves.
Enjoy your red cabbage muffins.
Best wishes
Bea