Apple Cherry Muffins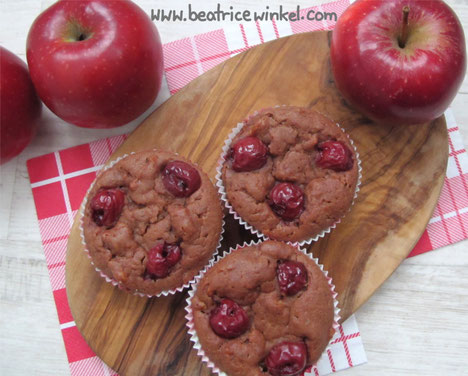 This recipe is a wonderful combination of apples, cherries and chocolate. Yumm Yumm Yumm 😊
Apple Cherry Muffins
Ingredient for 12 Apple Cherry Muffins:
250g of flour
130g of brown sugar
200ml of cherry juice
1 big apple
1 hand full of cherries
120ml of oil
1 tsp. of vanilla powder (or 1/2 tsp. of vanilla extract / the seeds of 1 vanilla bean)
2 tsp. of baking soda
1 tbsp. of lemon juice
2 tbsp. of unsweetened cocoa powder
1/2 tsp. of cinnamon
1 pinch of salt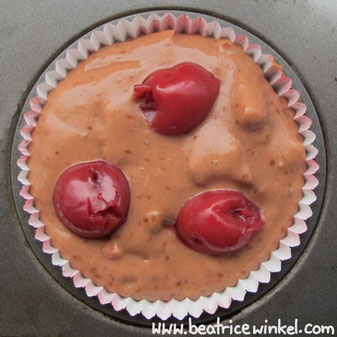 Preparation:
1. Halve the cherries and remove the stems and stones. Quarter the apple, remove the core and cut the apple quarters in small pieces.
2. Preheat the oven to 180°C / 160°C fan / gas 4. Line a 12-hole muffin tin with paper cases.
3. In a big bowl mix flour, brown sugar, vanilla powder, baking soda, unsweetened cocoa powder, cinnamon and salt. Add the cherry juice, oil and lemon juice and mix all ingredients thoroughly to a firm dough. Add the apple pieces and mix the dough again.
4. Fill the muffin cases, top it with the cherries and bake 25 minutes.
5. Leave the muffins in the tin to cool for 5 minutes.
I wish you lots of fun preparing and eating your Apple Cherry Muffins 😊
Best wishes
Bea