vegan Donauwelle Cupcakes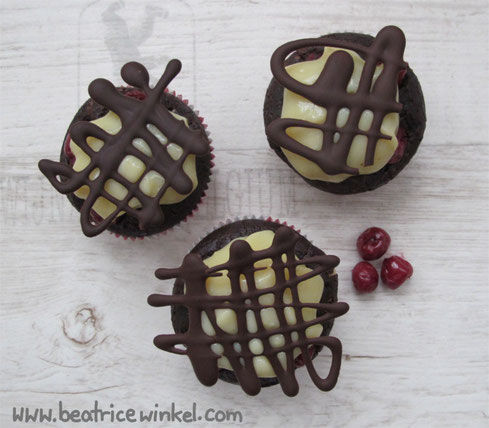 A favourite German cake as a delicious cupcake 😊
vegan Donauwelle Cupcakes
Ingredients for 12 Donauwelle Cupcakes
basic dough:
300g of flour
2 tsp. of baking soda
220g of brown sugar
1 tsp. of vanilla powder (or 1/2 tsp. of vanilla extract / the seeds of 1 vanilla bean)
200ml of oil
200ml of almond milk
2 tbsp. of lemon juice
1 pinch of salt
additional for the chocolate dough:
3 tbsp. unsweetened cocoa powder
3 tbsp. of almond milk
48 cherries
vanilla cream:
500ml of almond milk
45g of starch
100g of brown sugar
100g of chocolate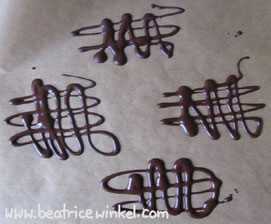 Preparation:
1. Halve the cherries and remove the stems and stones. If you like, melt the chocolate and make with the chocolate some patterns on a sheet of baking paper or just chop the chocolate ;)
2. Preheat the oven to 180°C / 160°C fan / gas 4. Line a 12-hole muffin tin with paper cases.
3. In a big bowl, mix the flour, brown sugar, vanilla powder, baking soda and salt. Add the almond milk, oil and lemon juice and mix all ingredients thoroughly to a firm dough.
4. Fill half of the dough in another bowl and add the unsweetened cocoa powder and almond milk and mix all ingredients to a firm dough.
5. Fill the muffin cases, firstly with the vanilla dough, then top it with the chocolate dough, top it with 4 cherries and bake the muffins 25 minutes.
6. At the same time: In a cup, mix the starch and 100ml of the almond milk (with a whisk). In a pot, mix the brown sugar and the rest of the almond drink and bring it to the boil. When it boils add the starch mixture and stir 1 minute (with a whisk). Remove the pot from the heat and stir 2 minutes (with a whisk).
7. Remove the muffins from the oven and leave the muffins in the tin to cool for 5 minutes. Then top the muffins with the vanilla cream and chocolate.
I wish you lots of fun preparing and eating your Donauwelle Cupcakes 😊
Best Wishes
Bea