vegan Frankfurter Kranz Cupcakes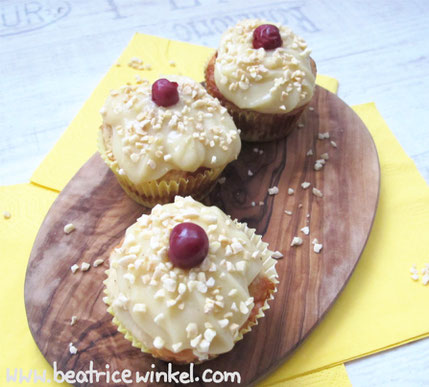 Another favourite German cake as a delicious cupcake 😊
vegan Frankfurter Kranz Cupcakes
Ingredients for 12 Frankfurter Kranz Cupcakes
dough:
330g of flour
140g of sugar
1 tsp. of vanilla powder (or 1/2 tsp. of vanilla extract / the seeds of 1 vanilla bean)
2 tsp. of baking soda
150 of oil
150ml of almond milk
2 tbsp. of lemon juice
1 pinch of salt
12 tsp. of red marmalade
vanilla cream:
500ml of almond milk
45g of starch
100g of brown sugar
decoration:
100g chopped almonds
12 cherries

Preparation:
1. Halve the cherries and remove the stems and stones. Toast the chopped almonds in a dry pan for 1 minute.
2. Preheat the oven to 180°C / 160°C fan / gas 4. Line a 12-hole muffin tin with paper cases.
3. In a big bowl, mix the flour, sugar, vanilla powder, baking soda and salt. Add the almond milk, oil and lemon juice and mix all ingredients thoroughly to a firm dough.
4. Fill the muffin cases, firstly with one halve of the dough, then top it with the red marmalade, fill the rest of the dough into the muffin cases and bake the muffins 25 minutes.
5. At the same time: In a cup, mix the starch and 100ml of the almond milk (with a whisk). In a pot, mix the brown sugar and the rest of the almond drink and bring it to the boil. When it boils add the starch mixture and stir 1 minute (with a whisk). Remove the pot from the heat and stir 2 minutes (with a whisk).
6.Remove the muffins from the oven and leave the muffins in the tin to cool for 5 minutes. Then top the muffins with the vanilla cream, chopped almonds and cherries.
I wish you lots of fun preparing and eating your Frankfurter Kranz Cupcakes 😊
Best wishes
Bea