stuffed zucchini with pea hummus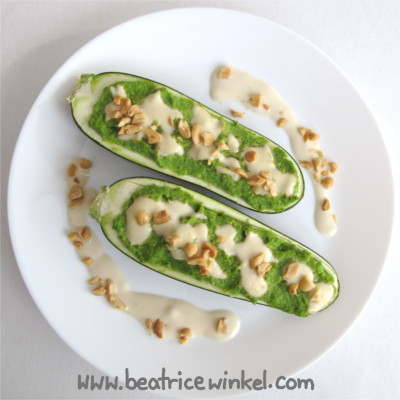 It is green, a bit crunchy and tastes fantastic ;)
Ingredients for 2 people:
2 small zucchinis (each 200g),
350g of peas
1 tbsp. of salt
1 clove of garlic
1 onion
1 bunch of parsley
1 lemon
1 tsp. of cumin powder
3 tbsp. of sesame seeds
2 tbsp. of almond cream
20g of peanuts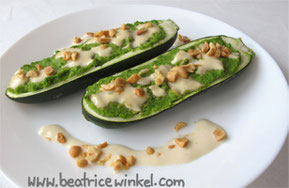 Preparation:
1. Cook the peas in a pot of 1l salt water for about 10 minutes, then drain in a sieve.
2. Peel and chop the onion and garlic. Chop the parsley. Halve and squeeze the lemon.
3. In a blender, place the peas, salt, sesame seeds, cumin, onion, garlic and parsley and blend it all into a smooth hummus.
4. Preheat the oven to 180°C / 160°C fan / gas mark 4. Place a sheet of baking paper on a baking tray.
5. In a small bowl, mix the almond cream and lemon juice. Chop the peanuts.
6. Halve the zucchini lengthwise. Hollow out the inside with a teaspoon and leave the shells about 0,5 or 1 cm (it depends on how much you like to eat of the zucchini). Pour the hummus into the zucchini halves and place the halves on the baking paper. Sprinkle the zucchinis with the almond lemon mixture and peanuts. Bake in the oven on the middle rack for approx. 15 minutes.
7. Remove the zucchinis from the oven and place them on two plates.
Enjoy your stuffed zucchini with pea hummus :)
Hugs and Kisses
Trixilie & Bea