White Vegetable Tower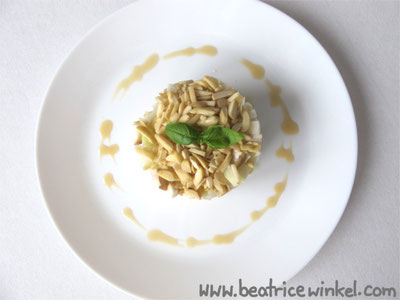 Do you know the white tower? Yes? And do you know the white tower of vegetables? No?
Then let me introduce the white vegetable tower. It is crunchy and tasty ;)
Ingredients for 2 people:
300g of kohlrabi,
100g of leek (the white of the leek),
120g of white mushrooms,
2 tbsp. of almond cream,
2 tbsp. of lemon juice,
2 tbsp. hot water,
1/2 tsp. of salt,
1/2 tsp. of white ground pepper,
2 hand full of chopped almonds,
2 tsp. of sesame oil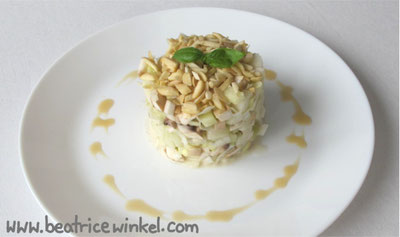 Preparation:
1. Peel the kohlrabi. Cut the kohlrabi in small cubes and place it in a bowl.
2. Quarter the leek lengthwise and slice the quarters. Place all into a sieve and wash it under running water. Let the water drain. Add the leek to the kohlrabi.
3. Cut the mushrooms into small cubes and place it into the bowl.
4. In another bowl, mix the almond cream, hot water, salt, pepper and lemon juice and add it into the vegetable bowl and mix all ingredients thoroughly.
5. Place a ring mold in the middle of a plate. Place one half of the white salad into the ring mold and press it slightly down. Place on top one half of the chopped almonds. Remove the ring mold. Repeat this with the second half of the salad and the almond on the second plate.
6. Serve the white towers with the sesame oil.
Enjoy your meal :)
Hugs and Kisses
Bea