The fairy land Berrytholdy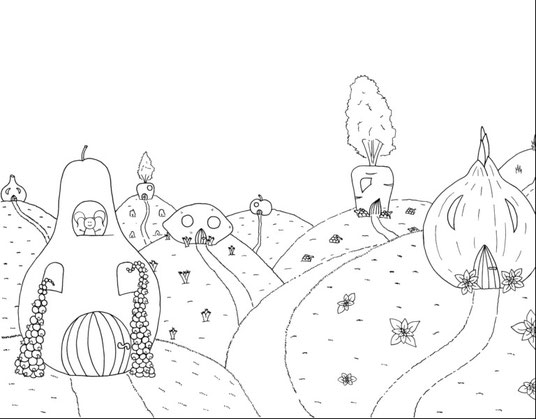 A long time ago - and yet perhaps it wasn't such a very long time ago for fairies, but definitely for humans - there lived a lot of fairies everywhere. They lived in trees, in stones, in rivers and in food. They enjoyed to spend time with the humans. Humans were fascinated of their magic and a bit scared of the tricks, which fairies loved to play. In that time, fairies were often seen by humans, because they believed in fairies. The time went by and bit by bit humans forgot the magic and to believe in fairies, so they couldn´t see them anymore, even the fairies were still there.
After many years of not believing anymore, some of the fairies decided to go back into their villages and cities or created new ones. Others decided to live among the humans, hidden in plants, stones and food. My family and a few other fairies went back to Berrytholdy to build it up again. They created places to dance, to sing, to float on rivers, to fly with fruit balloons, to walk in carrot forests and lots of other great areas.
You must know, in Berrytholdy you can eat everything because Berrytholdy is made of fruit and vegetables. That is so great and delicious. Imagine, you can eat the paths, the fences, the clouds, the roofs, the swing... you can eat everything!
Until my 5th birthday (this corresponds my 50th birthday in the human world) I spend every day in Berrytholdy. Together with my family I lived in a hollowed pear. Our neighbours lived – and still live – in onions, carrots, apples, pumpkins, lemons, cucumbers and a lot of other delicious fruit and vegetables.
That is a part of our village. Do you see me in my pear home?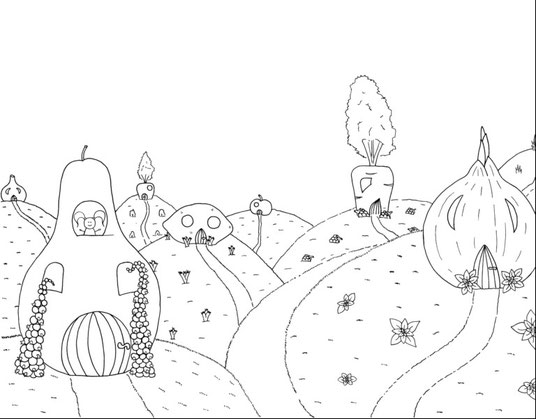 Now I like to show you everything about my pear home.
Let´s start at the back of my pear home. Food fairies love to help things grow – especially food plants. That´s why every fairy home in Berrytholdy has a little back garden. Frankly, we don´t need the garden space for food plants, because we can eat everything in Berrytholdy. But we love to see plants grow. So we enjoy our little gardens.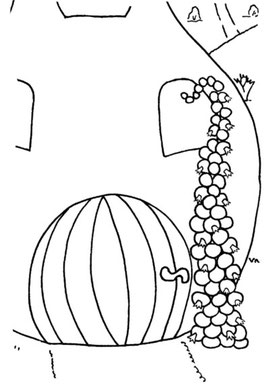 At the front of my pear home you see some currant towers. My parents planted them yeeeeears ago and now they are so big, that I can climb on them... hihiihiihi... that is such a fun... hihihihi....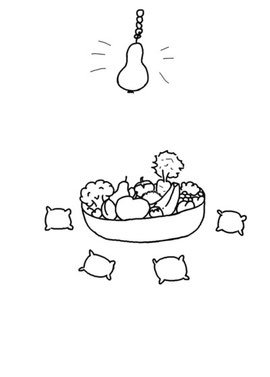 When you open the door of my pear home you are in the living space. Doesn´t it look totally cosy? Our chairs and sitting pillows are around a huge bowl full of fruit and vegetables. The bowl is never empty. Every day, everyone of the family collects a few fruit and vegetables during the day and places it into the bowl when she or he comes home. In the evening when everyone is at home, we sit around the bowl eat some fruit and vegetables and talk about our day.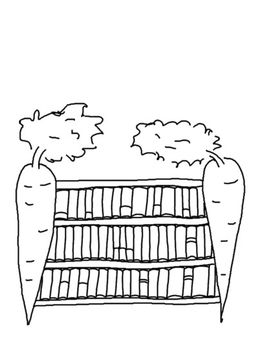 Next to the living space is our library. When it rains or before we go to bed, we read in a book. Our books are about fairies, who discovered the human world or other fairy worlds. We love to read them because we love to learn new things. Our books are made of leaves of plants, which we press and dry and then we use colours made of fruit juices and vegetable juices to write and draw. Hihihihihi... I learned in a museum in the human world that humans in the Middle Ages did the same... hihihih...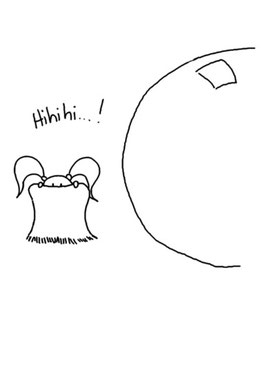 Some of the fairies love to play with water - for example me. But even fairies who don´t like to play with water wants to be clean. So every home in Berrytholdy has a water space. There fairies can shower or can clean their body with a huge water drop. I love to clean myself with a huge water drop. It is such a fun. I just take a lot of small water drops, put them together and then I walk through the huge water drop. All the dirt stays in the drop and I am totally clean.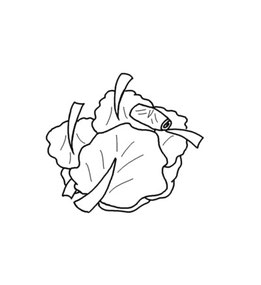 Finally I like to show you my sleeping space. Even here is everything made of fruit and vegetables. My favourite bed is made of some lettuce. Sometime I use red cabbage or white cabbage or rocket. From time to time I also use the green end of a carrot. That tickles a lot.... hihiiiihihhiii...
Now you know everything of my home.
I hope you enjoyed it. In two weeks, I´ll present you another piece of the fairy map and show you a very special place in Berrytholdy.
Hugs and Kisses
Trixilie
P.S.: Below you find a free printable comic. Print it as often as you like and send it to people who also could like it.