Trixilie's Dancing Hall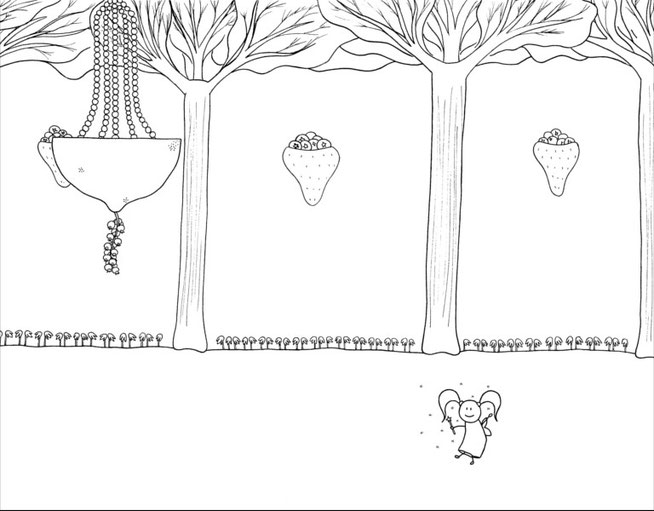 Last time I showed you my pear home. It is a cosy, lovely place, but sometimes we need a bit more space. So we created a big hall – our Dancing Hall.
In the Dancing Hall we dance – of course we dance in a Dancing Hall, but we also use the hall to spend time with each other: sometimes we just sit in the hall and talk or hug each other, or we celebrate special days such as birthdays, full moon nights, new moon nights, the beginning of spring, summer, autumn and winter, and love-days.
A love-day is a day where we celebrate a relationship between two or more fairies. Everyone who wants to celebrate a love-day invites all fairies into the Dancing Hall. Every fairy brings a bit of fruit or vegetable. The fairy who invited says in front of all the other fairies why this relationship is so special and then we all celebrate with dancing and eating. Sometimes friends celebrate such a special day, sometimes grandparents with their grandchildren, sometimes couples, sometimes neighbours and so on. It is such a fun every time 😊
Besides all the celebrations we use the Dancing Hall also for music... I mean playing instruments. Do you play any instruments? I love to play the carrot-xylophone, or the leek-flute, or the corn-harp, or the kiwi-drums.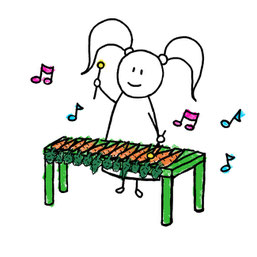 The carrot-xylophone has a short wooden sound. It reminds me at dancing through a forest or at how we play hide and seek in the forest.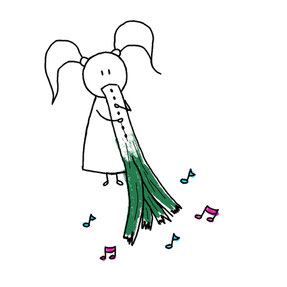 With the leek-flute I can play very short sounds like little birds who want to eat something. I can also play long sounds like the wind blowing through the fields and trees.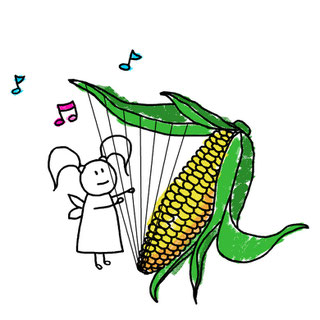 The corn-harp creates a very elegant sound. It is the same sound when we fairies fly. You can hear fairies fly in libraries, at food market and in the nature – especially at lakes and rivers. Just try to hear them there 😉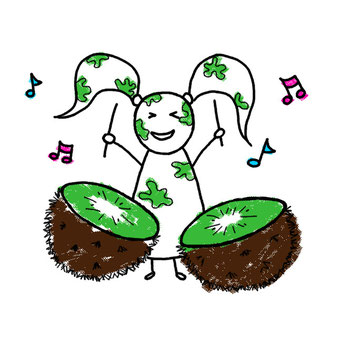 My favourite instrument is the kiwi-drums. The sound is very loud and deep and it is such a joy to beat them. Every time when I beat the drums the kiwi juice splashes on me... hihihiihihi...so I am always covered in green kiwi juice... hiihiihi...
In our Dancing Hall is everything made of fruit and vegetables – of course it is 😊 The lamps are made of strawberry bowl with shining blueberries. The chandelier is made of a huge lemon and a lot of red, white and black currants. The walls of the Dancing Hall are huge rhubarbs and at the ground of the walls are small cress plants. The smell in the hall is incredible delicious... mmmmhhhh... so nice....
Because I love my kiwi drums and the Dancing Hall so much, I want to share with you a bit of its tastes. So Bea and I created a kiwi-berry-bread just for you. It combines the taste of the kiwi-drums and the Dancing Hall. But it isn´t just a recipe, it is a colouring recipe, which you can download for free and print as often as you like. After you print it, you can fold it into a cute mini recipe book and colour it.
Just click on that picture and the pdf file will open: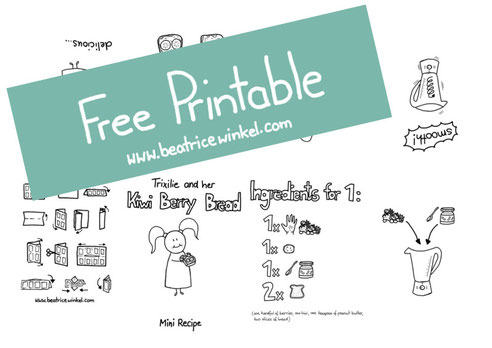 I hope you enjoyed it. In two weeks, I´ll present you another piece of the fairy map and show you a very special place in Berrytholdy.
Hugs and Kisses
Trixilie