The Smoothie Puzzle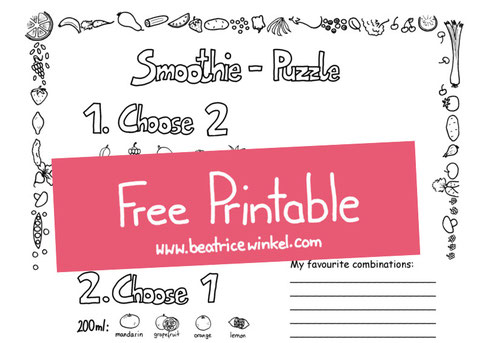 Who doesn't know that: You made the decision to eat more fruit and vegetables, you know which fruit and vegetables you like to eat, you already shopped everything and chopped it into practical small pieces and placed them into food containers. But then during your work routine, between all your appointments and juggling work, family and private life, you have no time to eat all the fruit and vegetables. All the chewing needs too much time 😉
For such moment in life are smoothies great. You can prepare them very fast, carry them in a bottle to every meeting, drink them pretty quick between two appointments and they give you a lot of energy without being a stone in your stomach.
But even with smoothies you need a lot of time to choose the right recipe and when you found one, you often have not all the needed ingredients at home, so you have to improvise again. 
Much simpler is the Smoothie Puzzle. There are three groups of ingredients. You choose 1 or 2 ingredient(s) of each ingredients group, place them into a blender and blend until smooth – finished. It doesn't matter which food you have in your fridge or pantry – with these three groups of ingredients you create very quick a very delicious smoothie.
Of course I created for you a suitable drawing 😉 You only have to click on the picture and the free PDF file will open, so you can download and print it. As you can see, you can also write or draw your favourite smoothie combination on that PDF.
Hang it on your fridge, so you can see it every day. Isn't it easy to "eat" a lot of fruit and vegetables 😉
Hugs and Kisses
Bea
P.S.: Do you know the week meal plans? They help you to eat a lot of fruit and vegetables for a whole week. You just need to shop and cook once a week and you can eat three delicious meals every day. Read more about it!