Favourite Meals Wish List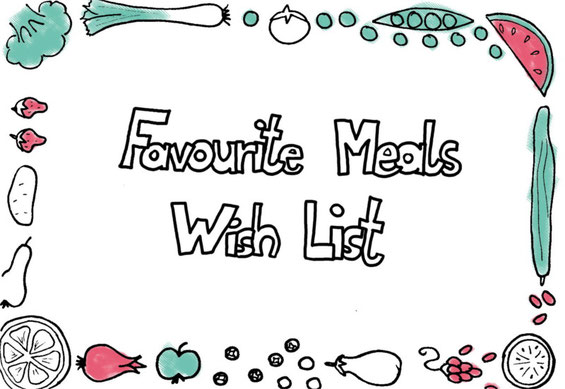 What should I cook? It doesn't matter if you are single, part of a couple or part of a family with kids – we all have pretty often the same question "What should I cook?" Especially at days which are overloaded with appointments. Right after we got home, we start to search something edible in the fridge and a few seconds later we order something at our favourite delivery service.
But how can you change it?
I had the same question and received a lovely answer from my friends. They share their flat. So, when Trixilie and I came back from our journey through England, we lived in that flat with 5 other adults. Everyone has a different taste, but all of them like to eat together in the evening. So, every Saturday, before they go shopping, everyone chooses one favourite meal for the week, which he or she will cook for all flat sharing mates.
Isn't it a great idea? So everyone has his/her favourite meal once a week, no one has to think in the evening "what should I cook" and all can eat together.
But how can you add this idea to your daily life?
With the Favourite Meal Wish List 😊 Of course I already created one for you 😉 In that Wish List you can write the needed ingredients and how you can prepare the recipe. So you always have everything together and can start immediately to cook.
Here you can download it for free: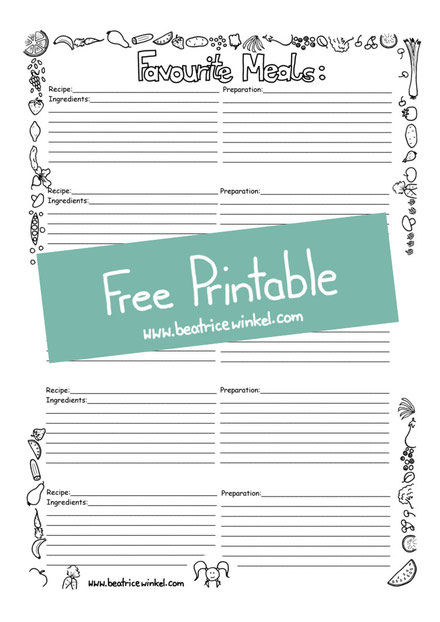 And here are some ideas how you can use it:
1st option: You print the list and you and your family add 1 favourite meal on it ... or 2...
2nd option: Everyone of your family gets his or her own list. So everyone can start to be creative and you can choose between a lot of meals.
At the evening, you just take the list(s), choose one favourite meal and then you start to cook.
In the case, this tip doesn't help you sooooo much: In 2 weeks I will show you, how you can plan with the Favourit Meal Wish List(s) all suppers for the whole week (including a shopping list). So let´s start to fill your Favourite Meals Wish List, you will need it pretty soon 😉
I wish you lots of fun 😊
Hugs and Kisses
Bea
P.S.: Do you know the week meal plans? They help you to eat a lot of fruit and vegetables for a whole week. You just need to shop and cook once a week and you can eat three delicious meals every day. Read more about it!