Trixilie's Carrot Forest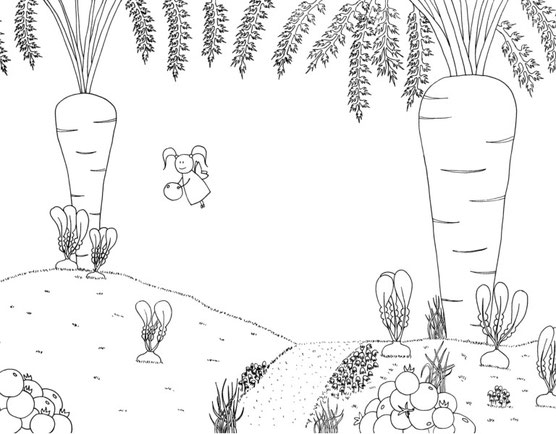 Besides the widest side of the river is a beautiful Carrot Forest. Like the name says, there are a lot of carrots in the forest – gigantic carrots – but also a lot of other delicious fruit and vegetables. I am so excited to show you the Carrot Forest 😊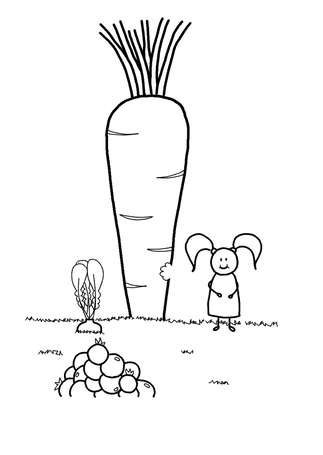 Firstly, I start with the carrot trees. They grow high up into the sky. Their big treetops hide a lot of the sky. We fairies can just see the sky sparkling through the carrot greens. It looks majestic with all the sparkling, so we call the treetops treecrowns – crowns of queens and kings sparkle the same way 😊 The carrot trees have different colours and tastes. There are yellow carrots which taste very soften, orange carrots which tastes often sweet and sometimes a tiny bit bidder... yummy 😊 ... and purple carrots which taste sweeter than the orange carrots.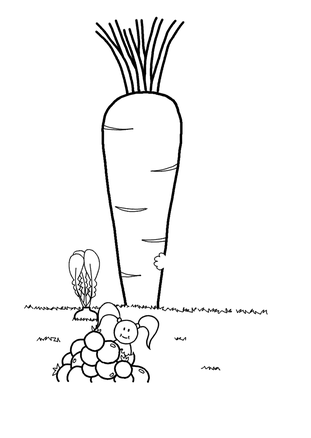 From time to time, little tomatoes roll between the carrot trees along. No fairy knows why they do it. They just do it in the Carrot Forest – nowhere else in Berrytholdy. They roll from one tomato bunch to another. The tomatoes are red, yellow, orange, red with green sparkles, nearly black or dark purple and taste wonderful juicy and delicious... 😊 The best thing is that they roll so slowly that I can catch them very easily. Sometimes when I sit under a carrot tree, a tomato rolls pretty close besides me - I just need to grab it and eat it... hihiihiiihhi... that is so easy and delicious...hihiiiiihihi... 😊

You probably have seen the little cress fields besides the path and between the carrot trees. I love them. They grow pretty fast, smell amazingly and taste wonderful – especially with tomatoes.  They look also pretty in my hair... hihihihihhhiii... what do you think? Doesn't it suit me? ... hihihihihhihhii... 😊

Another delicious snack are the white and red radishes. Their taste is sometimes a bit spicy, but I can't resist and love to eat their green leaves and the radish itself. They are also lovely drums. Sometimes I sit in the Carrot Forest, drum the radishes and sing very loud. That is such a great joy.

On all the other times in the Carrot Forest, I just listen to the sound of the forest. Then I lay on the gentle meadow, look to the sky and enjoy the sounds. The sound of the forest is a combination of a lot of different sounds: the wind creates a lot of different sounds when it touches the fruit and vegetables, the tomatoes create sounds when they roll from one bunch to another, water drops create sound when they fall down on fruit and vegetables and so one. All together create the sound of the forest. Even in the human world you can listen to the sound of the forest. Just try it and you will see that every forest sounds a bit different.
I hope you enjoyed the Carrot Forest as much as I do. If you like you can download the free Mini Colouring Comic of the Carrot Forest here: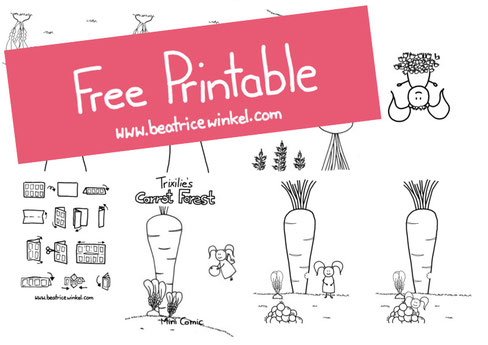 I wish you a lot of joy with it.
Hugs and Kisses
Trixilie