Trixilie eats rainbows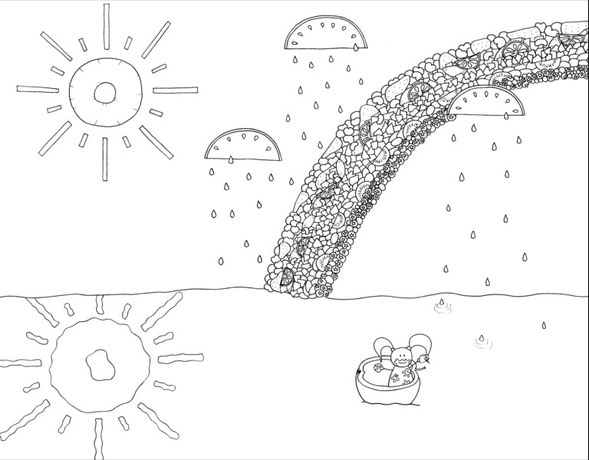 I already told you about our river celebration, our edible fruit boats and that the river ends in the wonderful ocean.
Today I show you a bit more about the ocean. In the ocean are cute beings. There are gherkin seahorses, mushroom turtles, banana fish and radish jellyfish. It is so wonderful to dive there.
Above the ocean is also beautiful magic. Every time the rain kisses the sun, a delicious rainbow arises. The rainbow combines all the beautiful colours of the fruit and vegetables, like yellow, green, orange, red, violet and blue.
Each rainbow looks a bit different. The colours are slightly different and the fruit and vegetables are always a bit different arranged.
When the rainbow arises, we fairies fly to it or we take one of the fruit boats and drive to it. There is always a spontaneous fest when we arrive at the rainbow. Along the rainbow are a lot of fairies nibbling the fruit and vegetables or giggling about some jokes. Some fairies sing, others play cards, fly around or have a picnic in one of the fruit boats. Every time it is a big joy 😊
Have you ever eaten a rainbow? I hope so. They are delicious. All the different colours have different tastes and it is a big joy to discover all the tastes of the different colours 😊
If you haven't eaten a rainbow yet, I can help you. Bea and I created a free Colouring Recipe for you. Just click on the picture and you can download a cute Mini Colouring Recipe of a delicious rainbow – for free: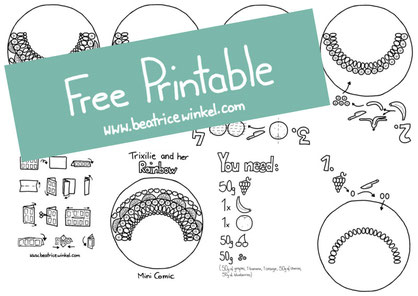 I wish you lots of fun with the rainbow 😊
Hugs and Kisses
Trixilie