Trixilie's Fruit Islands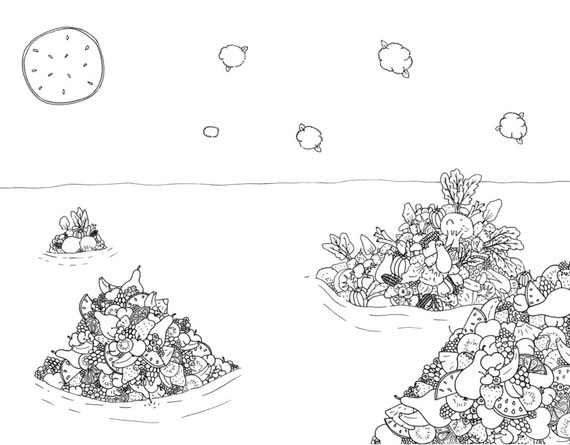 When I showed you our big lake in Berrytholdy, I showed you just one half of the lake. Now I like to present you the other half of the lake.
I already showed you the living beings in the lake. These lovely beings need a place where they can eat and sleep. All that happens in the north of the lake. There grow a lot of fruit and vegetables on the ground – really a lot. There are so many fruit and vegetables that they create small hills in the lake. Some of them are so big that they even look out of the water – the fruit islands. In these hills and islands are little caves, where the beings sleep. Some of them also love to play between these hills and islands.
It is so wonderful to sit on such an island, look into the sky and listen to the sound of the water. When I get hungry, I just take one of the fruit or vegetables on which I am lying on and eat it. Sometimes I sit on an island, look into the water and enjoy watching the beings swimming around in the water, jumping out of the water and into the water, watching them eating something or they look back to me... hihiihi... what a joy 😊
Did you ever sat close to a lake and watched what happened in the water? Even in the human world it is fantastic to do so. There are so many animals, plants and other things to watch. There are fish, bubbles, little wood pieces, plants which grow from the ground and a lot of other wonderful things. Sometimes a fish swims pretty close to you, sometimes pieces of plants swim across to you, sometimes you discover little stones and sometimes you find something unexpected.
In the free Mini Colouring Comic below you can see a few cute moments which happened close to my favourite island. Just click on the picture and you can download the free Mini Colouring Comic: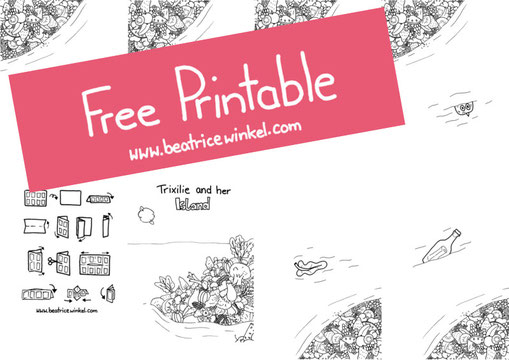 I wish you lots of fun with my island 😊
Hugs and Kisses
Trixilie