Trixilie's Grape Swings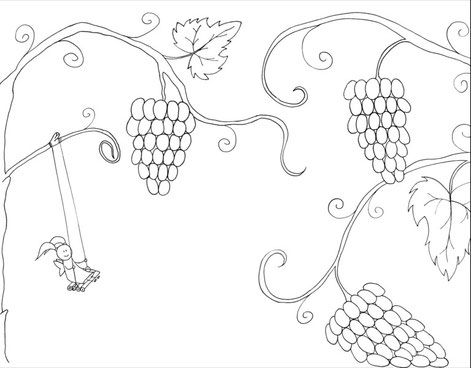 Have you ever noticed how many different colours grapes could have? The variety of colours is very large, going from nearly black, blue, violet, red over green and yellow. Isn't it amazing?
And have you ever noticed how many different tastes grapes could have? The variety of taste going from biting sour, funny sour, over to soft sweet, sticky sweet and juicy sweet.
Did you also know that you can eat the leaves of the grapes? Nom nom nom...delicious... They were prepared like some kind of wrap filled with rice, vegetables and herbs. I love to eat them 😊
In Berrytholdy we have a special place to celebrate all the different colours and tastes of grapes. There are huge vines with curvy tendrils, big vine leaves and of course a lot of grapes.
Between all the grapes are a lot of swings. We fairies created these swings because of two reasons. The first reason is: we enjoy to sit on the swings and to swing between the grapes...hihiihi... The second reason is: every time a fairy swings on a swing the grapes start to swing too. When grapes in Berrytholdy swing they create wonderful sounds like a lot of beautiful bells. Can you imagine how beautiful the swinging grapes sounds are? Just magical.
All together, the swinging grapes create lovely songs. But every song is different. It depends on which swing a fairy swings, how many swings swing and how slow or fast a fairy swings. It is sometimes like a huge orchestra when a lot of fairies swing on their swing and sometimes it is just one single beautiful sound when just one fairy swings. But it doesn't matter how many fairies swing – every time it is a big joy to be between all these wonderful grapes.
It is also always a big joy to create new sings or to put a swing from one place to another place – just to create new sounds. Bea and I created a cute Mini Colouring Comic for you which shows you how I tried to create a new swing. You can download it for free. Just click on the picture:
I wish you a wonderful swinging time 😊
Hugs and Kisses
Trixilie