Trixilie's Pumpkin House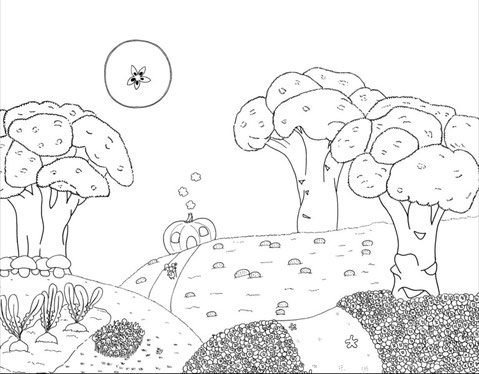 When I started to show you Berrytholdy, I started with the fairy village. A lot of fairies live there, but not all. Some of the fairies live outside of the village. They want to discover these areas where they life. They want to know how the magic works there, why specific plants grow there and a lot of other things which happen there.
One of these fairies is my grandma. She lives in a pumpkin house close to the village. There grow huge broccoli trees, which spend a lot of shadow during the summer. Between these broccoli trees are reddish bushes, blueberry hills, little mushroom places and cress fields. The pumpkin house stands on a small hill where a lot of potatoes grow.
My grandma says she lives there to discover why the broccoli trees grow just there and why are so many potatoes there. But I think she lives there because of the blueberry hills. My grandma loves to eat blueberries...hihiiihihi...
When I'm in Berrytholdy, I always visit my grandma. We always have some kind of ritual. First we hug and kiss each other if we wouldn't see us again...hihihi... what a joy 😊 Then we go into grandmas food garden and pick a lot of blueberries and mint leaves. When our baskets are full of blueberries and mint leaves we go into grandma's kitchen, place the blueberries into a huge bowl and the mint leaves into a teapot. We add hot water to the mint leaves, let it brew for 5 minutes and pour the mint tea into two cups.
After that we sit around the blueberries and mint tea and talk about grandma's newest discoveries and my newest adventures. We always sit there for hours. From time to time we prepare new mint tea, but most of the time we talk, hug, laugh and enjoy spending time together.
Now, you probably understand why I love to visit my grandma. Every time it is a big joy for both of us. Sometimes Bea and I celebrate this ritual too – just because it is a lovely ritual - especially on rainy days. To celebrate that ritual too, Bea and I created some kind of Mini Colouring Preparing Comic just for you. Click on the picture and you can download it for free: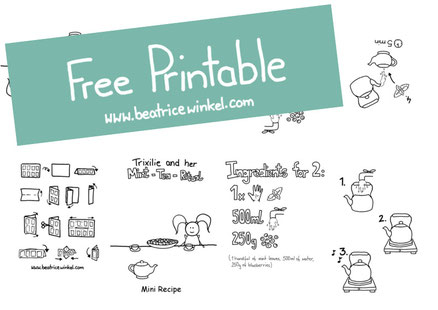 I hope you enjoy this lovely ritual as much as I do.
Hugs and Kisses
Trixilie